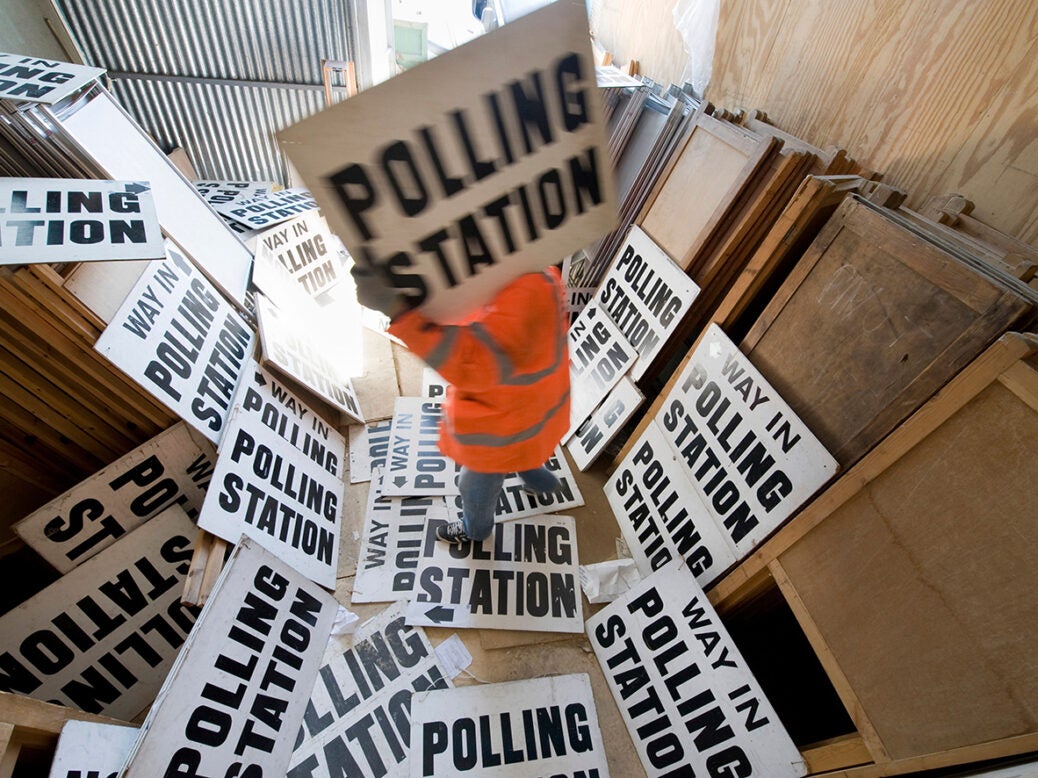 The May local elections. That once-in-a-year British event where thousands of jobs go out for tender, to be decided on by an unimpressive percentage of an uninterested electorate. Obscure wards and divisions electing councillors is more interesting than it sounds. Local government is a valuable arm of public policy but the results are interesting because they give us a close insight into towns and cities that we often write off as purely Conservative or purely Labour. Not only that, but local election results can often whip up or calm the political winds in Westminster. Boris Johnson's career is presently in doubt. The local elections are, consequently, well worth staying up for.
They need to be understood properly, however. This year, on 5 May, there are 3,976 wards electing 6,871 councillors (give or take). Last year's locals were exclusively English but this time all home nations will be voting in some form. Northern Ireland will elect a new legislative assembly, and the whole of Wales and Scotland will elect new councils. In England, meanwhile, only a portion of the people are going to the polls. Cornwall, Liverpool, Cheshire and other areas will have no elections, but North Yorkshire and Greater London, for example, will.
In 2021 many of England's urban and rural counties went out to vote. This year, in England at least, the vast majority of seats up for election are in built-up areas. If you live in a city or large town, the chances are you'll have an election to get excited by. Some of the wards up this year also held contests last year and here we arrive at the most complicated, and yet crucial, part of this year's elections.
Most of the seats up this time were last contested in 2017 and 2018, though the wards (areas) held elections in 2019 and 2021. The elections of 2017 and 2018 (when Labour recorded its best locals performance since 2012) were significant ones that featured starkly different political trends to now, so when analysing this year's results it's worth bearing that in mind.
Take the metropolitan borough of Dudley, in the Black Country, as an example for this. In 2017 and 2018 it wasn't decisively Conservative. It was still, then, in its northern quarters at least, Labour-leaning. But at the 2019 general election that changed and in the 2021 local elections Dudley voted Conservative by an overwhelming margin, repeating its general election verdict.
This year Dudley will be electing, or re-electing, councillors last up in 2018. Note, from the table above, that a large portion of them are Labour, more so than the ones won last year. If Labour were to hold these seats, I wouldn't necessarily view that as evidence of a stagnant party but rather one doing much better than it did in 2021 and at the 2019 general election.
That context is key. Last year was a bad one for Labour. The Brexit deal and the Covid-19 vaccine rollout had bolstered the Tory party's poll numbers significantly, so much so that by election day its lead over Labour resembled that of the 2019 general election and the opposition was routed.
Mapping the 2021 local elections
Now the situation has been reversed. Labour maintains a poll lead of five to six percentage points, something we haven't seen for almost a decade. In 2008, when the Conservatives achieved significant urban council victories over Labour, their poll lead was around ten points. For Labour to be ahead is crucial and, more importantly, a new development, but we can't quite tell how bad it could get for the Tories. Most of the English seats up for election are urban (where Labour is strong) and were last contested before the Tories' crushing victory in 2019. As a consequence there aren't as many council seats for Labour to win back from the Conservatives as there would be if last year's seats were up for election.
At any rate, here's a few things to watch out for on election night.
Labour holds in the Red Wall
It will be more telling if Labour holds on in Hyndburn, in Lancashire, and Dudley than if it gains Wandsworth council in south-west London (which the Tories have held since 1978). Further Labour holds in areas on the periphery of Greater Manchester and in Wakefield, Nuneaton and Hartlepool would show the marginal areas that matter are swinging back to them. Once the dust has settled, it's worth totting up the vote totals in these seats to see if Labour comes out ahead and, therefore, in a stronger position than last year and at the general election.
Where the Greens are gaining
Last year the Greens made impressive advances in both urban and rural England. Countryside Suffolk and the Merseyside town of Birkenhead swung their way from the Tories and Labour respectively. With Labour no longer behind in the polls, however, it'll be interesting to see if the Greens' advance continues. Keep an eye on Newham, Camden, Burnley (yes, Burnley), Sheffield and the Wirral to find out.
The trends in Blue Wall England
Polls suggest the Conservatives are doing badly in the so-called Blue Wall. These are traditionally Tory areas that are now swinging to opposition parties, in part because of internal migration and demographic change and in part because of the shifting appeal of the Conservative brand in our post-Brexit world.
Watch out for Liberal Democrat gains in Tunbridge Wells, Somerset, South Cambridgeshire and St Albans and even Labour ones in Trafford and Worthing -- Worthing being in close proximity to Brighton. There's hope among the Labour camp that they'll win a majority there this year, which would be a remarkable result given there were no Labour councillors until 2017.
The race for second place in Scotland
In Scotland, the Tories surged in 2017. They eclipsed Labour for second place, more than doubling their council seats in the process. Staunchly unionist, middle-class voters, who were traditionally Labour, found comfort in Ruth Davidson's Conservatives and voted accordingly. Last year there was potential for Anas Sarwar, the new Labour leader, to bring Labour back to second place but it was not to be. This time, however, polls suggest Labour has the edge. If the party finishes ahead of the Conservatives for council seats, and decisively so, it would suggest Scottish Labour's future as a third placed after-thought isn't quite so certain as once thought.
Where to get the results?
Last year we at Britain Elects gave the New Statesman a new way to view local elections: easily accessible ward-by-ward results, mapped in real time (or as fast I can). It proved popular, and I was delighted at how well it was used. This year we'll be replicating that for State of the Nation, alongside a liveblog, a stream and more post-election detail and analysis.