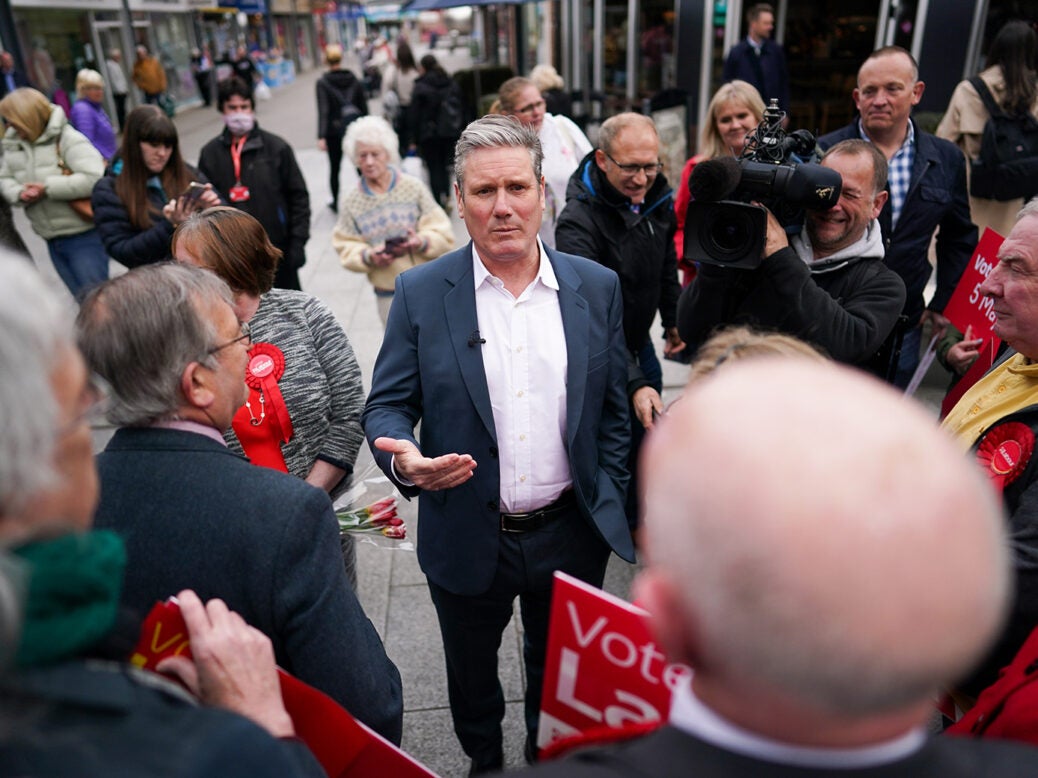 Local elections are hard to commentate on. The first councils swing one way, the final councils swing another, and yet the hot takes, delivered at 5am on a Friday morning, reflect only the first of the two. Nothing could be more illustrative of the short shelf life of such verdicts than Labour gaining Barnet council in the morning and losing Harrow in the evening.
Here, however, is one data-based take. This year's elections did reflect what the polls have been telling us. Pollsters, at least, should feel vindicated by the results in all four nations. Across the UK, Labour leads by around five to seven percentage points in our poll tracker and the election results reflect this.
How the results compare to 2018
Changes in English council seats and nationwide poll numbers, May 2018 to 2022
Source(s): BBC (Eng council seat figures); Britain Elects (poll share)

Some, however, have talked of a bloody nose for both parties and of Labour failing to broaden its base after a damning general election defeat in 2019. This narrative reflects the fact that Labour only made a net gain of 29 seats in England (and 108 in Great Britain). But it misses the point that most of the seats were last contested in 2018 when Labour was winning (albeit just) the so-called Red Wall (which it has since lost) and polling around 40 per cent -- a figure similar to the polls now.
Before the results came in I spoke on how a good night for Labour would be holding on to the Red Wall when compared with 2018, meaning that it would be gaining it when compared to 2019 and 2021. With all the results in England now in, this supposed good night appears to have -- mostly -- come to pass. If we were to aggregate the results in Bolton, Hartlepool, Bury and Wakefield, all Red Wall seats that joined the Tory column in 2019, we find Labour coming out not behind the Tories, like at the last general election, but ahead.
In Dudley Labour's vote is up three points on 2018 and the closest it's finished to the Conservatives in recent local election history.
In Hartlepool there has been a dramatic reversal of fortunes. Last year the Conservatives led Labour by 12 points but this year Labour led by nine. 
In Wakefield, a portion of which will soon head to the polls in a key parliamentary by-election, we find the Labour lead across the borough has risen from seven points in 2021 to 24 points in 2022. What masks this surge, and consequently the accuracy of some analyses, is Labour's lead in 2018: 18 points.
In Burnley the picture is more mixed. The Tories are up eight points on 2018 and Labour is down three (it had a 25-point lead last time round). The Lib Dems and Greens, meanwhile, are marginally up. Compared with last year, however, Labour is doing much better.
As ever, the point of comparison is crucial to how we interpret the results. Labour is doing much better than last year -- and the 2019 general election -- in most areas. The Red Wall, which fell so decisively to the Conservatives in 2019 has now, for the most part, been rebuilt in Labour's favour.
A patchy performance
Council seat wins in the Black Country, West Midlands
Source: Britain Elects
But the trend is not uniform. Grimsby is still decisively Conservative. Nuneaton, while not part of the Red Wall, continues to drift away from Labour. And Dudley, while recording a swing against the Tories, would still vote Conservative in an election held today. But across the country a national vote today would leave Labour as the largest party, with around 290 seats, while the Conservatives would be reduced to around 250-60 -- down more than 100 since 2019.
London saw Labour gains (and, indeed, some humiliating losses) but these are not, to my mind, as telling about the country at large as the Labour gains in Swindon, Milton Keynes and Southampton. These are the marginal seats that were decisive in 2010 and 2015 and the results show them swinging towards Labour as much as the Red Wall boroughs mentioned earlier, if not more so.
This year's local election results in England are more patchy and irregular than anything I've seen in recent history. Labour is doing well enough to secure the status of the largest party in the House of Commons, but its imbalanced performance in the north and Midlands suggests to me it is doing the bare minimum to win. For Keir Starmer's party, there is still much more work to do.