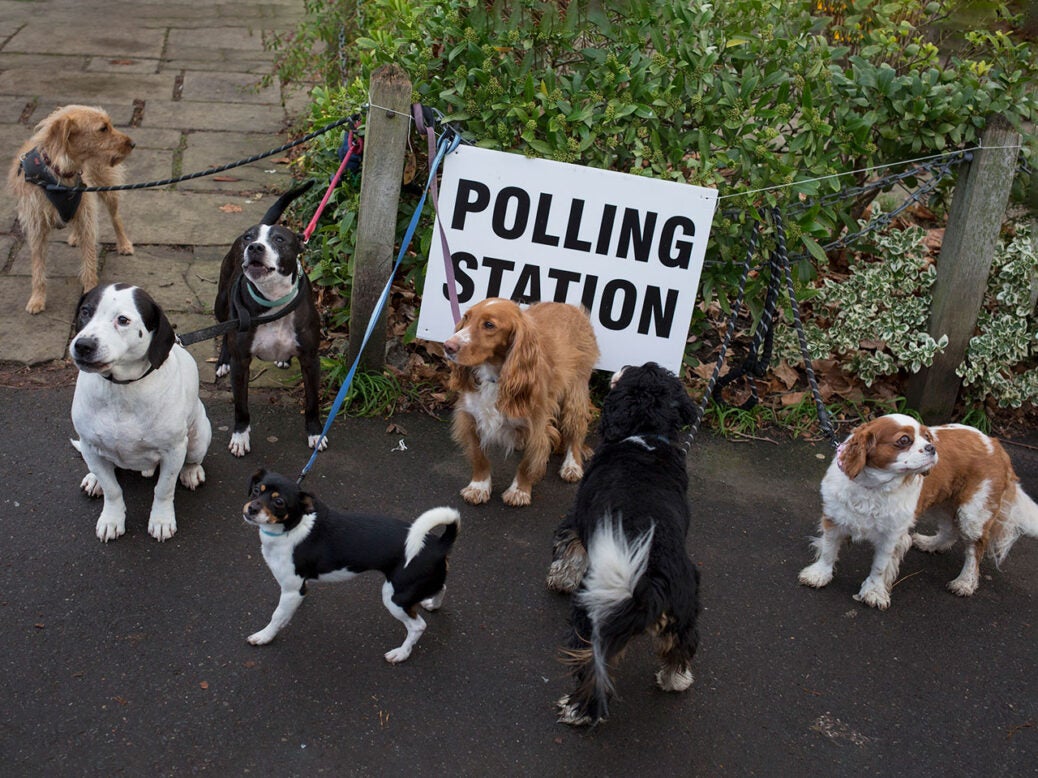 The first major electoral test for Rishi Sunak, and the first real indication as to whether Labour's surge in the polls, and thus chance of returning to power, is real – this is the 2023 English local elections.
On Thursday 4 May, 25,000 candidates will be competing for 8,000 seats in 5,000 council wards. All of the Midlands, barring Birmingham and Shropshire, is going to the polls. West Yorkshire, Greater Manchester, Teesside and Tyneside, all up for grabs. The Home Counties – Blue Wall, affluent, graduate-heavy and otherwise – in contention. And East Anglia, the Thames Estuary and the Lincolnshire coast – once the most important battlegrounds for Ukip, now are on show.
Here is your definitive guide as to what to expect, what to watch out for, and when, on election night. 
To begin with, mapped below is which areas are going to the polls and how they voted at the last election.
And now for how I expect the night (and subsequent day) to progress.
[See also: Will an October 2024 election give the Tories time to recover?]
10pm
Ok. The polls will close. For the uninitiated, there is no exit poll for local elections! A pollster may use the attention at 10pm to put out something interesting, but the close of the polls will be anticlimactic and I would use the opportunity to take a breather and focus on something else. Owing to the King's coronation, councils are minded not to count on the Saturday, which means more authorities than usual will be trying to get everything done overnight. That does not, however, mean we will have a majority of the results in by sunrise. In fact, I estimate that by 6am we should only have 23 per cent of them.
That is, admittedly, more than what we usually get, but still a low figure.
Between now and 11pm don't expect much beyond gossip. The parties will play a hasty game of expectations management, informed by whatever surveying they have done on the day. Ignore it. The best we have are some projections from YouGov, but even they come with limitations.
The MRP method used by YouGov lays down demographic-based voting intentions by local authority. To crudely summarise, it can struggle to consider local prominence. The Lib Dems in Cambridgeshire, for instance, would attract most progressive-minded voters, even if nationally they would be more likely to vote Labour. Geographic observations like these don't show up quite as well in simple MRP projections, so take those East Cambs figures with a pinch of salt.
11pm
And it's Sunderland. Or Newcastle. Or Halton. Or maybe even Broxbourne! The race to declare the first seat is on, and will probably all be over by 11pm. Expect a lot of "Labour HOLD" here as three of the above four are Labour-run councils.
As you peruse the first wards, use this time to remind yourself that many of the seats up this year were last voted on in May 2019 when Labour and the Tories were both in dire straits, each polling 31 per cent of the vote, and when the Brexit Party and Liberal Democrats were ascendant. But despite the Tories being in a worse position now than they were in 2019 (albeit only by two percentage points in the polls), they have more Leave supporters today than they did four years ago. And while Labour's support has quite clearly surged since, don't be surprised if you see the Conservative vote rise somewhat in certain Leave-heavy seats. Boris Johnson's "Get Brexit Done" realignment election happened after May 2019, remember.
[See also: Can the Greens sustain their gains in May's local elections?]
12am
More Sunderland seats due, and I'd like you to pay heed to these for a moment. In 2019 outrage and the apathetic politics of the Brexit Wars filtered through to many coastal locales, including in Sunderland. Here, Ukip won three seats on the council. The party is not expected to hold them tonight, not least because the Kipper in one of them has since joined the Conservatives. But watch for how these seats go. Watch for Reform UK (as the Brexit Party is now known). If we want to talk about a bare-minimum recovery for Labour in Leave-voting England, it needs to be winning back seats like the ones it lost in Sunderland. And convincingly. 
Also keep an eye out for North and South Tyneside. In the North, terraced Tory seats look to be under threat by Labour, and Labour seats in South Shields look to be under threat… by the Greens – a consequence of safe seat councils without much in the shape of oppositions. 
1am
It is around 1am that the onslaught begins. For the past few hours we will have been getting results from the early boroughs, but by now everything and anything will come at once. Redditch – a former Con-Lab battleground, will start to make declarations. Labour needs to be seeing gains there. Ditto in Stevenage, the Hertfordshire seat of the famed and yet bewildering "Stevenage Woman", supposedly key to a Labour election victory. Results from Hartlepool, site of the 2021 by-election that Labour lost badly, will start to come in. Harlow in Essex is host to the affable Conservative MP Robert Halfon, but Labour could do with advancing there nonetheless.
The first few hours of the night will admittedly be focused on the north-east, and on Con-Lab fights. Dudley may start to declare council seats at this point, as might Grimsby, Peterborough, Thurrock, Tamworth and Lincoln, all places where Labour could do with advancing at the Tory party's expense. But in Dudley, in the West Midlands, there was a not insubstantial Ukip vote in 2019. Where's it going?
Hull may start to make some noises at this point too. Traditionally a Labour locale, the city has since swung Lib Dem off big wins in the student wards. The Lib Dems are, however, just one seat off losing their majority. Labour needs just two gains to take control, so the ground campaign may have been intense. Still, if there is to be some Labour slippage, it may come here.
[See also: Do voters care about trans rights?]
2am
Plymouth council is your typical Con-Lab battleground, and this year Labour is confident of taking control. Complications by the Conservative-run council in cutting down trees – a potent issue for any party in local government – appear to be exacerbating the national swing. But just two years ago the vote in the city was 51 per cent Conservative, 34 per cent Labour. Keep an eye out for how those votes split now.
Portsmouth, too, should start coming in with seat declarations at this point. Unlike Plymouth, in Pompey it's a bit of a free-for-all. The Lib Dems, formidable in the city, have been gunning for Labour and Tory seats. Labour strategists think they can go for Lib Dem and Tory seats. And a former Labour councillor is keen to hold his seat as an independent. And let's not forget the local parties: independents who are seeking to cause a stir. Portsmouth is anyone's game.
3am-6am
The next three hours will feel a little chaotic. For me, processing these results behind a spreadsheet, "little" will be an understatement. Southend will come in – a distant hope for Labour. Ashfield, formerly Labour and now overwhelmingly Independent, will start to declare a couple of wards. Bassetlaw – another key Nottinghamshire borough, will be well worth watching. Ditto Telford, Bolton, South Gloucestershire and Stoke-on-Trent.
Lib Dem watchers should pay heed to Windsor and Maidenhead. YouGov projects the party advancing by a sizeable margin and at this point we should see some results.
Although only a quarter of the seats are likely to be known by 6am, it would be wrong of me to say we couldn't at least start drawing some conclusions at this point. In South Gloucestershire we have the outer suburbs of Bristol – Kingswood, Filton and Bradley Stoke – to analyse. Stoke-on-Trent, Britain's Leave-voting capital city, will also be worth paying attention to. Labour will need to reverse its ten year collapse there if it fancies returning to Downing Street. Medway, the Kent borough hosting Gillingham, Chatham, Rochester and Strood, could also do with some attention. While it is an outside-chance, I hear Labour is hoping to take control of it from Conservative hands for the first time since 1998.
It is by 6am that most councils will have completed their overnight counts. Between six and ten, expect a lull. The analysis will pour in. The sun will rise, and I, probably, will hit the hay.
11am-1pm
I hope you're well rested at this point. I know I won't be. For the next few hours we move out of urban England and into something a little more blue, although for how much longer? Welcome to Blue Wall England – results from the Home Counties boroughs of Runnymede, Wokingham, Welwyn Hatfield and plenty more will start to be drip-fed to our social media channels.
The Lib Dems had a good innings here back in 2019. Brexit angst sent a great many affluent Conservative votes into the yellow pile. If the Lib Dems hold onto them, then they can say May 2019 wasn't just a flash in the pan. Lib Dem gains may not be forthcoming, but holding onto what they won in West Oxfordshire or the Vale of White Horse will be just as valuable.
Bracknell Forest will also be filtering through at this point. Pay heed now, for in many wards here candidates from Labour and the Lib Dems are not standing against each other. Purely a coincidence, I am told. Definitely not a progressive alliance.
Whatever the case, the council is overwhelmingly Conservative, although things are quite clearly fraying. Let's see if this... coincidental positioning of candidates – undoubtedly fortunate for the progressive parties – changes that.
[See also: The 2023 May local elections – what to watch out for]
2pm
If you thought Thursday night was intense, look away now, for Friday mid-afternoon looks set to be even worse. I estimate that as many as 1,900 council seats could declare between 11am and 3pm. Here we should expect Leeds, Liverpool, Derby, Bury, Bolsover, Brighton, Wolverhampton, Wakefield, Bournemouth, Sheffield, and a whole host of others, both large and small. In Kent, watch out for Labour's showing in Whitstable and Nigel Farage's old stomping ground of Thanet. I feel we often fail to appreciate just what Labour needs to win a majority at the next election. South Thanet - of Ukip-votinf Ramsgate and others - is one of them.
It is at this point that we should start to see some developments for the Greens. The party has led the council in Lancaster for quite some time, and boundary changes have them fighting fierce battles with Labour for continued control. On the Wirral, apathy looks set to gift the Greens some wards from Labour. And in Mid Suffolk, expected to start counting from midday, many sources, both Tory and Green, think the Greens will take majority control of the council off the Conservatives.
Whatever stereotype you had of Green voters, in local elections it is useless. To enough voters in local elections, the Green brand is inoffensive and attractive, political party traits that, in my mind, are unsustainable once you reach the national stage.
3pm
The avalanche continues. Dartford is due, as is Lewes and Luton. Charnwood might be worth keeping an eye on. The Leicestershire borough covers Loughborough, a town that went Tory in 2010, and that Labour could do with winning back.
The council that covers Dominic Raab's own constituency, Elmbridge, in Surrey, should start declaring, too. In this instance, look out for Lib Dem gains.
The Swindon count should be well under way. The council hasn't had a Labour majority since 2000 and Keir Starmer launched Labour's local election campaign here. Anything short of a Labour gain – from the Conservatives – should be written up as disastrous for the party. This is a must-win.
[See also: Can Brand Rishi Sunak save the Tories at the polls?]
4pm-6pm
By now things should start to peter out. Bournemouth, Christchurch and Poole should be finished counting at this point. There, the council has got into a whole load of complications. Allegations of misconduct and financial mismanagement look set to hit the Conservatives hard. By this time, as the working day ends, we should know how hard.
In Middlesbrough local independents, who make up a majority on the council, also look set for a backlash by voters owing to a fracas surrounding the attempted setting up of a "mayoral development corporation" that would hive off community assets and planning permission from council control.
In both situations Labour should benefit. But in the case of Bournemouth, don't rule out the Lib Dems gaining the most. And in Middlesbrough, don't rule out other independents replacing the current ones.
This year's local elections feel doubly apathetic to the ones we've had in the past. The Tory base is downbeat about voting Tory again. Labour's advances are impressive, but are built on assumptions of a low turnout. As the results pour in, keep an eye on that turnout. Is it as bad as that which we've been writing up? Let's find out.
Britain Elects will be providing unparalleled ward-by-ward results and coverage as the night progresses. Enjoy!
[See also: Britain Predicts]