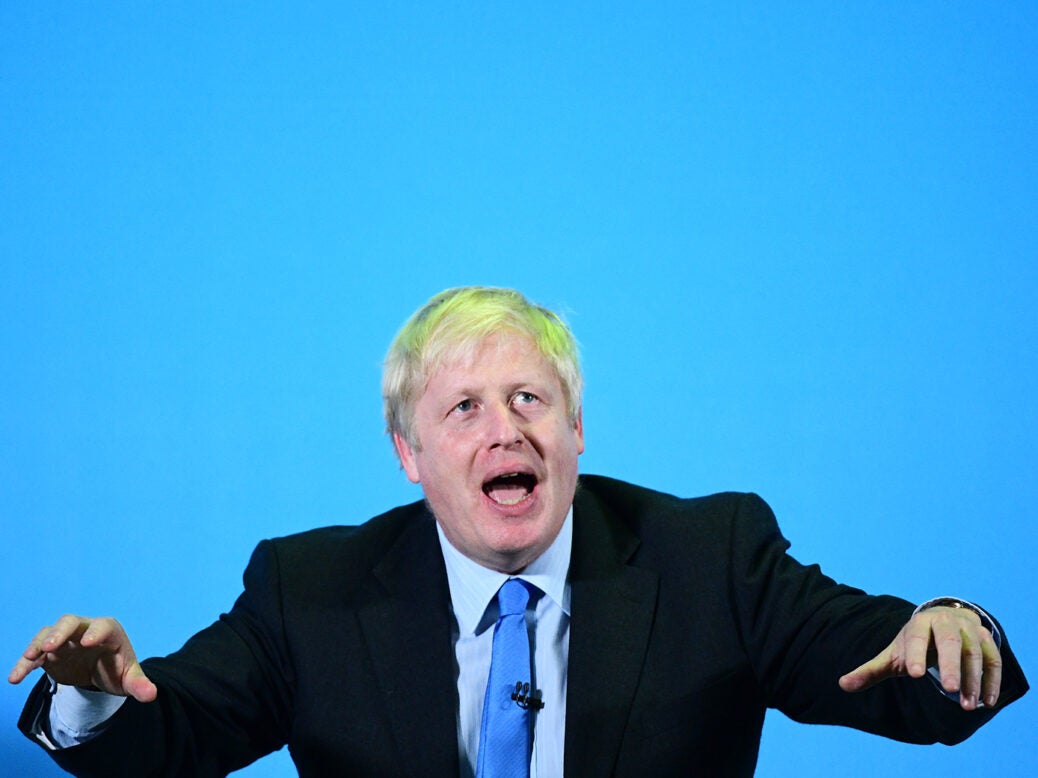 There is no one quite like Boris Johnson. Rewind to 2019. It's December, the Brexit wars are over (or are they?) and the Conservatives have just won an 80-seat parliamentary majority. Labour is in disarray. 
Johnson was integral to turning the Red Wall blue. As an unconventional Conservative leader, he helped to dampen enthusiasm among Labour Leavers and attract voters to the Tories who would otherwise have stayed home or voted elsewhere. Johnson, who forged the Leave coalition that won the EU referendum in 2016, sustained it through to the 2019 election. On that count there is no doubt Johnson was an electoral asset to the Conservatives.
That's no longer the case. In the marginal seats that matter, confidence in the Tories has collapsed more than in the country at large. A recent JL Partners poll in Wakefield putting the Conservatives 20 points behind Labour illustrated as much, as did my modelling of the Red Wall. 
For the Tories, Johnson's continued leadership is poisonous. He has played a leading role in dampening voter enthusiasm for the party and the longer this lasts, the more time Conservative supporters will spend acquainting themselves with Labour as the probable next government (as they did in the 1990s). One of the key factors behind Labour's landslide victory in 1997 was that Tory voters disproportionately stayed home. They had little enthusiasm for John Major and little fear of Tony Blair. And though we are not on course for a 1997-style result, Johnson is doing the Conservatives' election prospects no favours. Less than half of those who voted Tory in 2019 now regard Johnson as an electoral asset, according to a Savanta ComRes poll in January.
Could this change? Doesn't Johnson have a capacity for comebacks like no other politician? It's easier to win over apathetic Tory voters than it is to attract supporters from another party. The Tories could be artificially lower in the polls because so many of their base are unsure how they would vote. If we assume historical trends are repeated, Labour's lead would today be around three percentage points, not seven.
David Cameron's popularity plummeted to similar levels to Johnson's but he recovered to win a surprise majority at the 2015 general election. Cameron, however, was up against Ed Miliband, a Labour leader he easily outpolled on competence, the economy and preferred prime minister. Today the stars don't align quite so favourably for Johnson. He polls behind Keir Starmer on competence, likeability and preferred prime minister and is tied with him on economic management. Starmer is no Miliband and certainly no Jeremy Corbyn.
To assume that Johnson can transform the Tory party's fortunes would be a major gamble. "He's done it before, so he can do it again" may sound compelling but it's an analysis divorced from reality. The cost-of-living crisis has shattered the Tory party's economic reputation. What credit Johnson received for his handling of Covid-19 (such as the vaccine programme) is rapidly dissipating. And, for a significant number of voters, it was Johnson, not the Conservative Party, they voted for in 2019. It was he who won the Tories that election and it is he who has been central to their fall from grace today. All the evidence Conservative activists need has been provided by the polls and the local elections (at which the Tories lost 485 seats).
There is no guarantee that a successor to Johnson would rescue the Conservatives from defeat but there's perhaps even less of a guarantee that Johnson can revive their fortunes. It's far from clear how he would try, let alone succeed. Tory briefings are dominated by talk of cutting red tape, bonfires of quangos and angry noises over trans rights. Half are lines copied from 2010 and half are lines copied from Twitter keyboard warriors. There is seemingly zero strategy to recover the country Johnson has lost. Right now, this man is electoral asbestos.
[See also: How does a no-confidence vote actually work?]