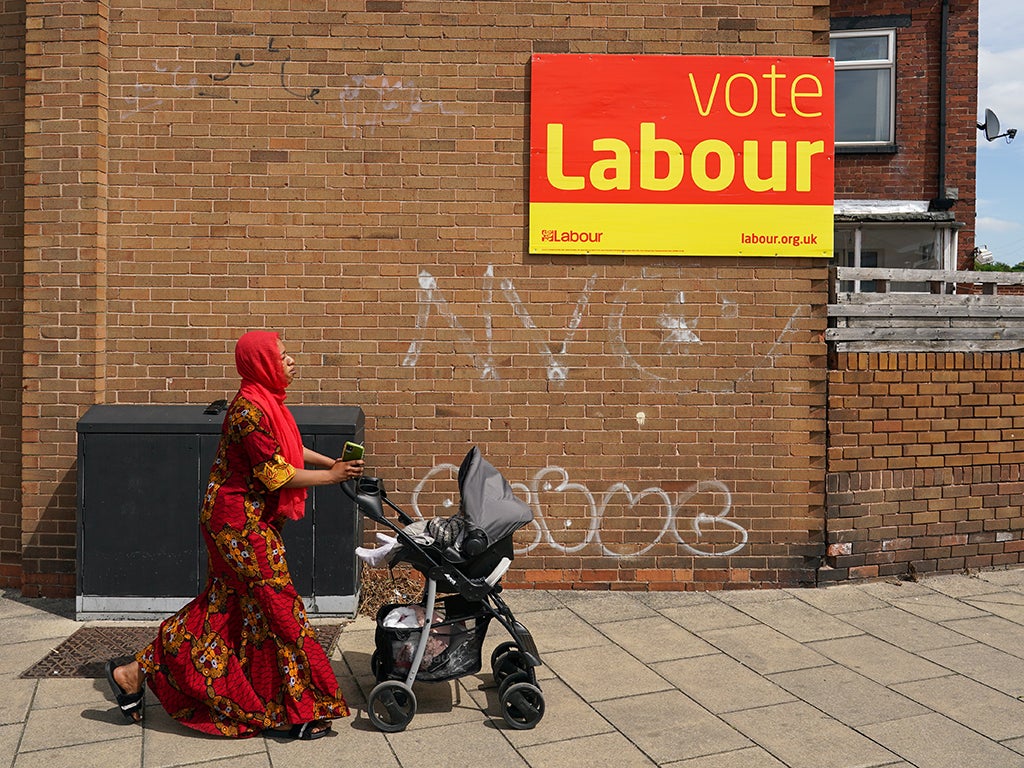 "F **k, if we're being sent here we must really be winning it big."
These are the words of one Labour campaigner sent to drum up support for their party's candidate in Ossett, near Wakefield.
For the uninitiated, constituencies often don't reflect their titles. The constituency of Wakefield, for instance, which votes in a parliamentary by-election on Thursday (23 June) is not just Wakefield. It's most of Wakefield, as well as the towns of Horbury and Ossett.
[See also: Wakefield by-election: Is Boris Johnson turning Red Wall voters back to Labour?]
Ossett is perhaps the most Conservative part of the seat. It's not marginal. It voted Tory in the May local elections while Wakefield overwhelmingly backed Labour. And yet Labour canvassers are being ordered to campaign hard there. 
Drive through the main neighbourhoods and you'd be hard pressed to find Conservative posters but there is a not insubstantial number of Labour ones. And with every other lamp post comes a slew of boards from the smaller parties. The Tory-turned-independent Akef Akbar on top, followed by the Greens, then the Yorkshire Party on top of the… who? The Freedom Alliance?
These lamp post wars suggest a seat split down the middle. But in the windows of homes, of the residents living and voting in the seat, Labour is ahead. And no campaigner I've spoken to from any party has any doubt who will win the by-election.
[See also: Wakefield by-election: Is Boris Johnson turning Red Wall voters back to Labour?]
Why? Armchair analysts might see what triggered the by-election as the obvious explanation. The former Tory MP Imran Ahmad Khan's conviction for child sex abuse should be enough of a reason for any voter to go against the incumbent party, so the thinking goes. But it doesn't feel that way on the ground.
Listening to doorstep conversations, few voters mention Khan's crime as grounds to vote against the Conservatives (some canvassers have even had to break the news to locals). One organiser described her shock at how few voters are bothered or aware of why this by-election is happening at all. Some voters even rounded on Labour, accusing it of exploiting Khan's conviction for its own ends. Those former Tories who have defected to Keir Starmer's party spent more time blaming Boris Johnson than anything else. 
This demonstrates just how crucial Johnson has been to the collapse in his party's standing in the constituency. Wakefield went Conservative by a margin of eight percentage points in 2019, and Labour is looking likely to take the seat by ten to 20 points.
The primary driver of these figures is Tory apathy – voters who went Conservative in 2019 and now say they're undecided. In practice, this removes a lot of potential Tory supporters from the pool of eventual voters. If voters tell pollsters that they were Tory in 2019 but undecided now, they are classed as non-voters, when in reality, come election time, they'll probably be tempted back to the fold. Opinium and Kantar try to correct for this, meaning some of those Tory undecideds will likely end up staying Tory at the next election, instead of staying home – meaning Labour would have a far smaller lead in the national polls.
While I was in Wakefield recently, I had the fortune to witness a data point such as this. "I'd sooner not vote at all than come vote for you!" a former Tory voter replied when asked if they would ever consider backing Labour. 
Here's the dilemma for a lot of apathetic Tory voters. There is, at present, little incentive for them to continue participating in the democratic process. Labour's standing with the public has shifted in recent years. Favourability is still low but outright revulsion has fallen. To many voters, Labour is perceived as far less of a threat than it used to be.
This, combined with Johnson's appeal, was a key driver of the Conservative vote in 2019. With that appeal gone, what is there for them? It wasn't the Conservative Party that so many of them voted for in 2019, it was the Boris Johnson party. Now, that party is mud to them – so why vote?
Labour will win the Wakefield by-election. By what margin remains to be seen, but I'd expect it to be lower than the 20-point margin suggested by JL Partners and Survation. Not all apathetic Tories will stay at home, but no doubt many will. And Akbar may steal some votes from Labour, but not enough to put its victory in doubt. "A saved deposit, yeah, but not much more," as one Labour staffer put it to me.
[See also: Being a Conservative by-election candidate must be the worst job in the world]