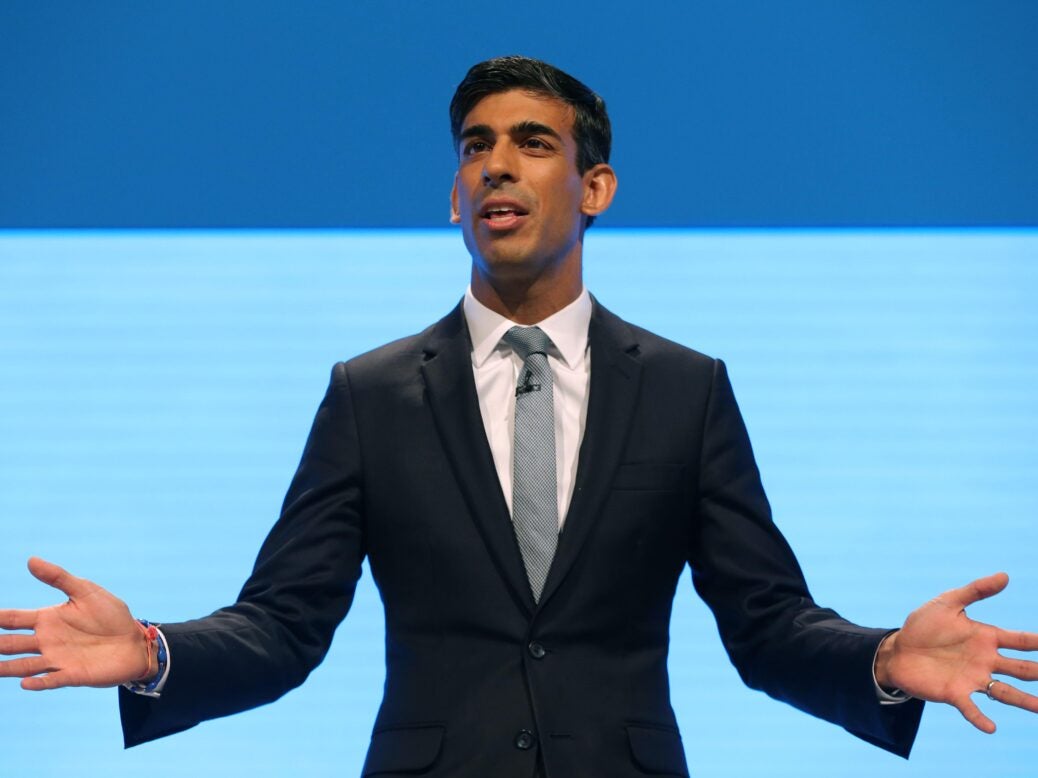 Is Rishi Sunak on his way back? At the time of writing the former chancellor is pulling ahead of the pack in MPs' endorsements to be the next leader of the Conservative Party. His launch, with a slick video, logo, and website registered in the midst of last week's cabinet chaos, went well enough. A carefully choreographed phalanx of MPs came out to endorse him, with some proffering their own words of support, and others copying and pasting direct from the WhatsApp chain.
Sunak is currently the frontrunner, yes, but I'd urge caution here. In the 2016 and 2019 Tory leadership contests Theresa May and Boris Johnson respectively were far and away ahead of all other contenders, leading their nearest challenger by as many as 40 or so MPs when 180 had committed to a candidate. Now, with as many as 170 parliamentarians having declared their support for someone, Sunak leads Penny Mordaunt only by between ten and 15.
So he's ahead, and there's the potential that he will make it to the final two candidates. The next stage would then be winning the party membership, and there's a large question mark over that. But let's suppose he does. Could he win over the country?
Sunak has, unsurprisingly, the greatest name recognition of all the candidates standing. He served as the Covid chancellor – the "Dishy Rishi" that voters grew to admire while he was doling out furlough cash. In 2021, when Boris Johnson's approval ratings were in tatters, Sunak was touted as the easy successor, and in match-up surveys with Liz Truss, the Foreign Secretary, he was coming away as the clear winner. But his reputation has since collapsed. As the cost-of-living crisis took hold this year, the help offered in Sunak's spring statement was seen as too little, too late. His inability to get a grip on the key issues of the day – soaring bills and prices, stagnating wages – suggested to enough voters that his capability in the Covid months was more the exception than the rule.
His poll ratings fell. In January Sunak had a net approval of plus fifteen. Then, as the partygate saga began to tarnish not just Johnson but the wider cabinet and Conservative brand, it fell to plus five. Approval rose slightly after the Russian invasion of Ukraine, but as Sunak delivered his spring statement, it crashed from plus seven to minus seventeen.
[See also: How will the Conservative leadership contest work?]
Politicians often fall in the public's estimations – honeymoons don't last forever – but few fall as fast as Sunak has. In March to June many journalists were writing him off as a successor to Johnson. He'd blown his chances. He was perceived as ineffective on the issues that mattered, despite his performance during the pandemic.
Now, though, such perceptions are waning – a little. Sunak's net approval rating is back up to minus thirteen. While more voters dislike him than like him, he is level with Keir Starmer, the Labour leader, both on likeability and, interestingly, according to a JL Partners poll on 6-7 July, on the public's preference for prime minister. When other Tory leadership candidates were put up against Starmer, Starmer pulled clear, often pretty convincingly.
However, I must urge caution again. Sunak has the name recognition. Tom Tugendhat, Penny Mordaunt and Jeremy Hunt don't. And Liz Truss, while known by some, isn't as known as Sunak. So while the Sunak vs Starmer figure is notable, I'd read the other numbers with the aforementioned in mind and then quietly, for now, discard them.
At any rate, any candidate that doesn't come with Johnson's toxic baggage will be a net positive for the Conservative Party. The potential for a reset is there but, like Starmer, they need to be showing some policy leg, too. Johnson's voters from 2019 aren't ready to shed all things Johnsonian. They are still hankering for soundbites on levelling up and successes for post-Brexit Britain. They are presently an apathetic bunch, with few defecting to Labour in the opinion polls. They – and the marginal seats that come with them – are still there for the taking. Sunak will be hoping that his message of economic discipline will be the one that the Conservative Party needs.
[See also: Tory leadership race: candidates are desperately short of new ideas]