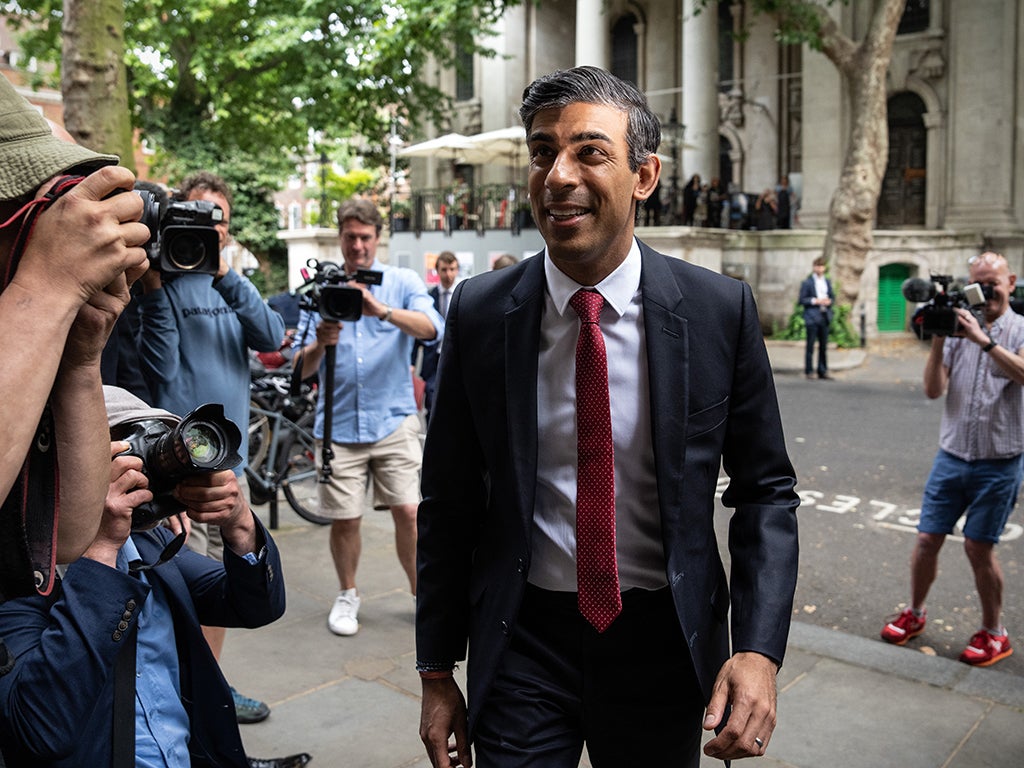 Conservative Party leaders often get elected convincingly. When the members want a particular candidate, they want them (look at Boris Johnson in 2019). This year's contest is shaping up to be a little tighter than most. According to YouGov polling on 18-19 July, Liz Truss is presently leading it when put up against Rishi Sunak, but I'd caution there is still much uncertainty. Only a few weeks ago Opinium showed Sunak with a slim lead over Truss, and the polling done before partygate and the cost-of-living crisis really hit was giving Sunak an even clearer edge. This is unlike past Tory races: it's not a done deal.
Whoever wins will have a hard task ahead of them. Labour leads the Tories by as much as ten percentage points. If a general election were held today, Labour would probably win a slim majority. Had Scotland not shifted so solidly to the SNP in 2015, Labour would currently be on course for a majority greater than Tony Blair's of 66 in 2005.
At present these are just hypothetical numbers. The next election will not be held until 2023 or 2024. Public opinion has time to change. The incoming Conservative leader will have an opportunity to turn things round. So who would do it best?
The case for Rishi Sunak
To anyone who has been paying attention to politics lately, Rishi Sunak would be the logical choice. A glance at the news stories generated by Liz Truss's many gaffes should give any passive supporter of the foreign secretary cold feet. These aren't the mess-ups of the insurgent, they're the mess-ups of the incompetent.
There is another reason to back Sunak. At present he is coming away with better net approval ratings than Truss (although part of that is down to him being better known). He has demonstrated a capacity for reading the country and rising to the challenge before, be it with the pandemic furlough scheme or the belated rush to introduce a (Labour proposed) windfall tax on energy companies' profits during the opening months of the cost-of-living crisis. He can boast a level of competence and in past surveys majorities have agreed with that perception.

Sunak's fall from grace since then was more related to the cost-of-living crisis than to partygate. He suffered somewhat alongside Johnson when he was fined, but it was his Spring Statement that really caused his reputation to take a tumble. He comes with his own problems, but if he can get a grip on his message on the economy then partygate is unlikely to bring him down. At the outset he would tie with Keir Starmer for likeability, not trail behind him, like Johnson or Truss. And he has form for convincing the country of his capacities, even though he is struggling with them now. He is the tried and tested candidate, and so to many the safer one.
The case for Liz Truss
Liz Truss, meanwhile, would be a dramatic shift. Going from one of the most recognised public figures in the land to someone far less well known would represent some form of a reset in the public eye. Truss is no Penny Mordaunt – she has a net approval of minus 30 – but her ascent to the top job would still mean a relative unknown stepping in to change things around. Sunak's victory, even though he quit Johnson's cabinet while Truss stayed, would still be a victory for the status quo. Remember, he held the purse strings just as Tory competence on the economy was crashing. Truss would be the insurgent here, the "shake things up" candidate. Voters might have little sympathy for all the talk of tax cuts as a means to combat the rising cost of living, but the crowds clamouring that "something must be done" might, at first, be appreciative.
If voters want change (and they do, Labour leads quite convincingly right now) then in theory they ought to prefer Truss to Sunak. Sunak sunk the ship of Tory competence on the cost of living. Truss hasn't yet acquired any such a reputation.
There is little polling data out there that I'd give much credence to right now. Truss has so little name recognition among the public that it's difficult to tell how she would actually do if she became prime minister. But hypothetical polling from Find Out Now on the question of "who would you vote for in the event of Sunak/Truss being leader" shows no advantage for either, which is curious. Neither seems to be yet a net positive for their party. Johnson may be going but Johnsonism – the message of levelling up and sense of permanent insurgency – lives on, and if the Conservatives can't find a candidate to channel that the party looks set to lose the next election.
[See also: Rishi Sunak will face two opponents in the Tory leadership contest: Liz Truss and Boris Johnson]