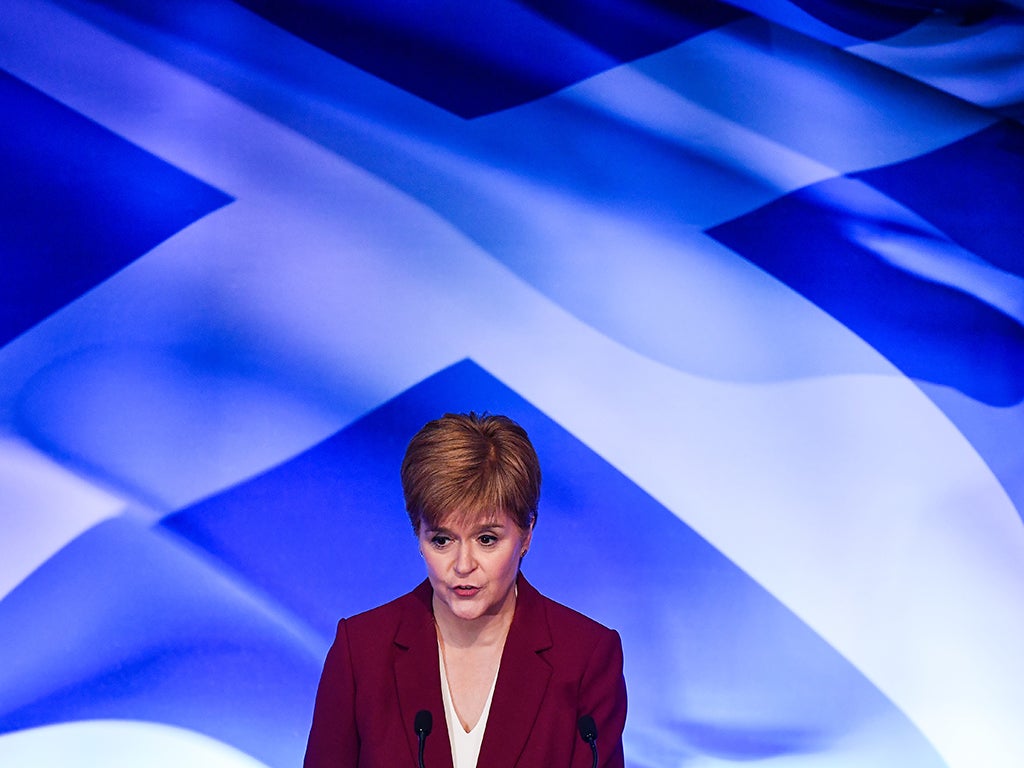 Here's a prediction: the next time Scots vote on independence, the result will be a lot tighter than 55-45, the 2014 referendum result. Who will win? To tell you the truth, I don't have a clue. And nor, I think, does anyone else.
Since that independence referendum, opinion in Scotland has fluctuated considerably. In the immediate aftermath of the 2016 EU referendum, snap surveys showed a sharp shift to independence, but the sentiment dissipated into a small majority for No when Theresa May became prime minister.
Following the ascent of Boris Johnson, however, the polls tightened in favour of Yes. Throughout 2020 and the opening months of 2021, independence was the majority choice in Scotland (albeit by a small margin).
Now the numbers favour No, although – once again – not by much. Whichever side is in the lead, both sides are neck and neck. Which makes Nicola Sturgeon's demand for a second referendum, to be held in October 2023, a genuine gamble. At present, there is no guarantee of victory for her side (should a vote be legally permitted).
This is still a contrast with the polls in 2013, a year before the first referendum. Back then, support for independence hovered around 30 per cent – with some even putting it as low as 25 per cent. But there is no majority for the status quo in Scotland anymore, only uncertainty – and a burgeoning group of anxious voters to whom both sides must vigorously appeal. The problem with Sturgeon's timetable is that it doesn't currently align with the majority view of the electorate. Scots recognise that there will and should be a second referendum held one day – polls have shown that for some time. But voters remain split on when it should be held. When the proposed timetable is put to the public, as it was this week by Savanta ComRes, most are against it. Forty per cent support Sturgeon's timetable, but this compares with 53 per cent who are opposed.

To my mind, holding a second referendum now – or rather, to commence the campaign for one – is a blunder. Constitutional issues and the independence question do not animate most Scots at present. When asked by Ipsos to rank the most important issues for the country, most voters cite inflation, the cost of living, the NHS and education. Issues related to independence are considered to be the primary political concern of just 17 per cent of Scots – a ten-point fall, by the way, since last November.

Voters aren't focused on independence, which means this gamble could backfire. Obsessing over a subject that most voters regard as a distraction is not dissimilar to Boris Johnson and Priti Patel going in hard over asylum seekers and Rwanda. Immigration is not at the top of the public's agenda but the Conservatives, in an effort to rally their base, are trying to move it there.
The risk for Sturgeon is that her gamble may feel like a distraction to Scots, which could damage her ratings on the more pressing issues of the day. And this won't just be a problem for the SNP. In the event of any referendum, as the Yes campaign's economic stance comes under renewed scrutiny, the hit to Sturgeon's personal standing could prove fatal. 
But there is also a potential upside for Sturgeon. The cost of living is ranked as the most important issue because it's the one that is unquestionably having the biggest impact on voters. Fifty-nine per cent of Scots say they feel their standard of living has declined since last year. And one could interpret that as the impetus for change. Voters are angry. They're feeling the squeeze. They despair of the Prime Minister (or at least 83 per cent of Scots do). Might this be the moment when voters step into the unknown and embrace an alternative?
[See also: What is behind Nicola Sturgeon's IndyRef2 gambit?]