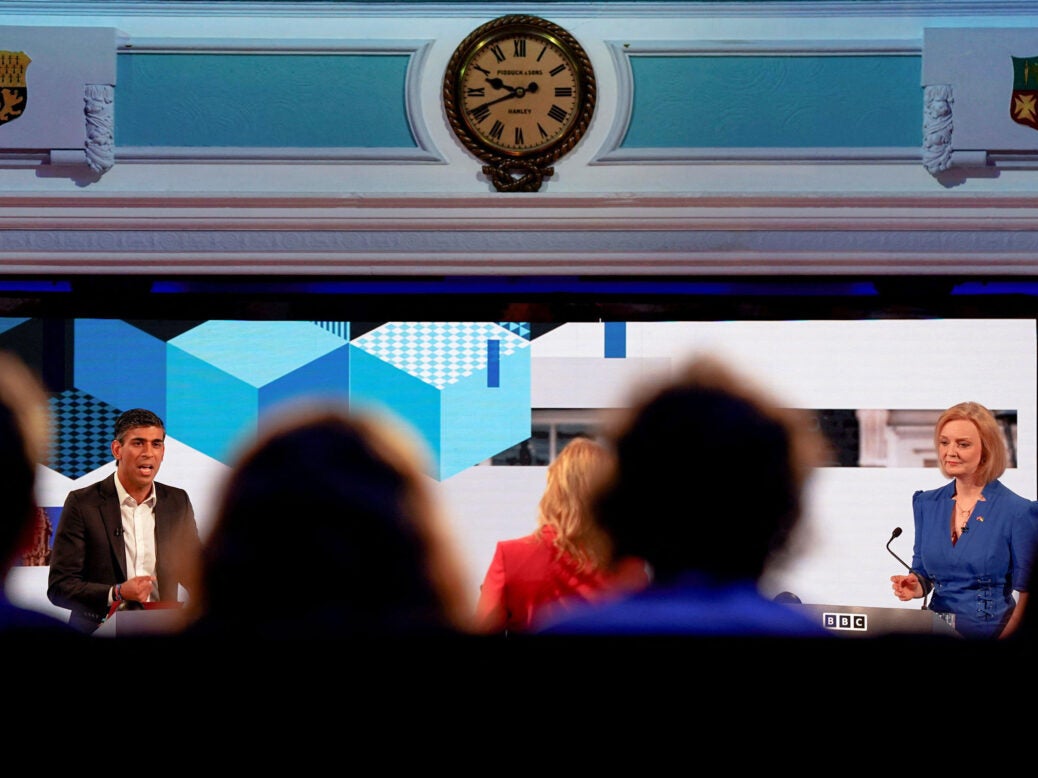 Is the Conservative leadership race a more tightly fought contest than we think? A surprise poll from Techne published last night suggests it could be. The results, based on a survey of more than 800 Conservative Party members, suggest Liz Truss is on 53 per cent and Rishi Sunak on 47 per cent, once you exclude the undecided.
When you compare these numbers with YouGov's poll of the Tory party faithful, published two weeks ago, the difference is stark and should set nerves ablaze among Team Truss. YouGov's poll had Truss on 62 per cent and Sunak on 38 per cent.
Note the fieldwork dates, however. While YouGov's survey took place from 20 to 21 July, Techne's was conducted over a longer period, 19 to 27 July. Polls tend to be frontloaded too, in that most of the sample (ie respondents) is garnered in the first day, or first few days, of the survey's fieldwork. Assuming that applies to Techne's poll, this makes the variation most curious.
The number of undecided voters is markedly different too. Techne's poll suggested just 9 per cent of Tory members were undecided, whereas YouGov had 20 per cent. This could be down to methodology – one pollster may be more determined than the other to squeeze a categorical answer out of the respondent – but for now we can't say that with certainty.
Nevertheless, either something has gone terribly wrong, with one pollster using an unrepresentative sample of the Tory membership, or this is evidence of a genuine shift in opinion.
How likely is the latter? It's worth noting that when you include undecideds Truss's share in both surveys is almost the same. What makes the polls starkly different is the share of undecided voters and the share for Sunak. 
Might it be that once-unsure Tory members are coming down in favour for the former chancellor? Perhaps. YouGov found that uncertainty was greatest among younger members and those who backed Leave in the 2016 EU referendum. Yet while younger members were the most pro-Sunak demographic, relatively speaking, Leave-supporting members were overwhelmingly for Truss. Not only that, but the most uncertain of party members were those who would have preferred Penny Mordaunt or Tom Tugendhat – candidates who have since endorsed Truss.
YouGov has a good record of predicting the winner in both Tory and Labour leadership elections since 2015, although that is no guarantee it will do so again. I can recall many elections where observers have cited this company or that as the gold standard only to be embarrassed when it proved the most inaccurate. Keep that in mind.
The difference in YouGov and Techne's numbers, in any case, prompts another question: has the make-up of the Tory membership changed? I asked a party member in the former Labour seat of Morley and Outwood, in West Yorkshire, and the answer was yes.
The change "probably started during the 2019 [general election] campaign and has grown since", he says. "We've seen a big rise in BAME [black, Asian and minority ethnic] members here. There's also a fair amount of young people that have been involved over the years, again probably an increase as people got involved during the general election and stuck around.
"Not sure there's much of a change ideologically from your classic member though. Most want lower taxes, seizing Brexit freedoms and, due to our geography, a deliverable northern agenda."
There's no doubt that Truss has the edge among Tory members at present, but to assume that she is winning 60-40, rather than 53-47, would be risky. This Tory leadership race could be the tightest for decades.
[See also: Liz Truss ignores "attention-seeking" Nicola Sturgeon at her peril]