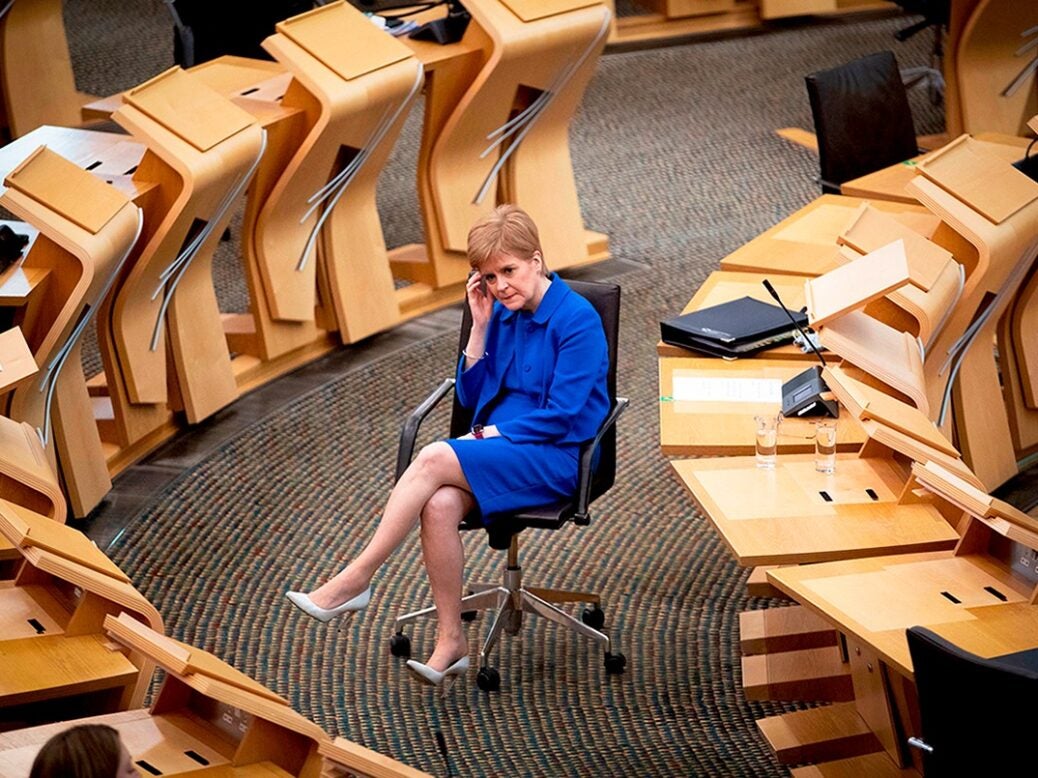 Whatever the real reasons for Nicola Sturgeon's departure as First Minister, the controversy over the Gender Recognition Reform Bill surely played a major role.
Personally I am emphatically in favour of the act. But Sturgeon was putting an issue of low relevance to voters in the spotlight, forcing them to have an opinion on it; inevitably, hurriedly formed views were pushed onto either side of the divide, no matter the nuances of the issue. When it comes to trans rights, most Brits – and Scots – are in favour. It's just the specifics that voters aren't sure about.
Allowing those as young as 16 to self-identify as transgender and gain an official gender recognition certificate was one issue of contention, not least among Sturgeon's own base. Most Scots were opposed – 55 per cent according to a recent Panelbase survey. Among SNP supporters, 35 per cent supported the proposal and 37 per cent were against. Among those who voted Yes in the 2014 independence referendum, just one in three were in support, while 42 per cent were against. This survey was taken in December, long before the more recent, more controversial, fallout that has been shaping the issue.
These sorts of numbers are a problem, whatever the rights or wrongs of the bill. During Sturgeon's eight years as First Minister she leant on issues which didn't necessarily divide the nationalist base quite like this. Perceptions of her handling of the coronavirus pandemic transformed support for Scottish independence. She performed admirably. The Gender Recognition Bill was different. A recent Ipsos survey found that it damaged public perception of her like no other issue. In 2021 her profile took a hit, but that was when Alex Salmond joined the rival nationalist Alba party and criticised the handling of sexual assault allegations against him by Sturgeon's government – these events, unlike recent ones, did not play out on Sturgeon's terms.
There are fewer polls of Scotland than there should be and as a consequence there is poorer understanding of the Yes campaign, and its voters, than we deserve. What I have been able to glean though, and what deserves wider understanding, is the Yes campaign's diversity. Of those who voted, at least 30 per cent of those that went Yes in 2014 voted to leave the EU in 2016. There is a not insubstantial number who are devoutly Yes, certainly SNP, but who on paper look more social conservative than social democrat. In this respect the SNP is more like a "single" issue broad church party. It succeeds as a broader church than any coherent Westminster party. Asking it to commit to issues of a controversial nature – those that divide generations and split the Yes camp – will alienate some supporters, as evidence suggests it has in the case of the Gender Recognition Bill.
Who do Scots want to succeed Sturgeon? They aren't sure. While parliamentarians and their staffers waiting in the wings may claim to know whose time has come, none of the options have any name recognition to speak of. That isn't to say none will be able to capture the public imagination upon ascension, but the SNP's most favoured figure will undoubtedly be a hard act to follow.
[See also: Does Scotland want independence? The latest polls]