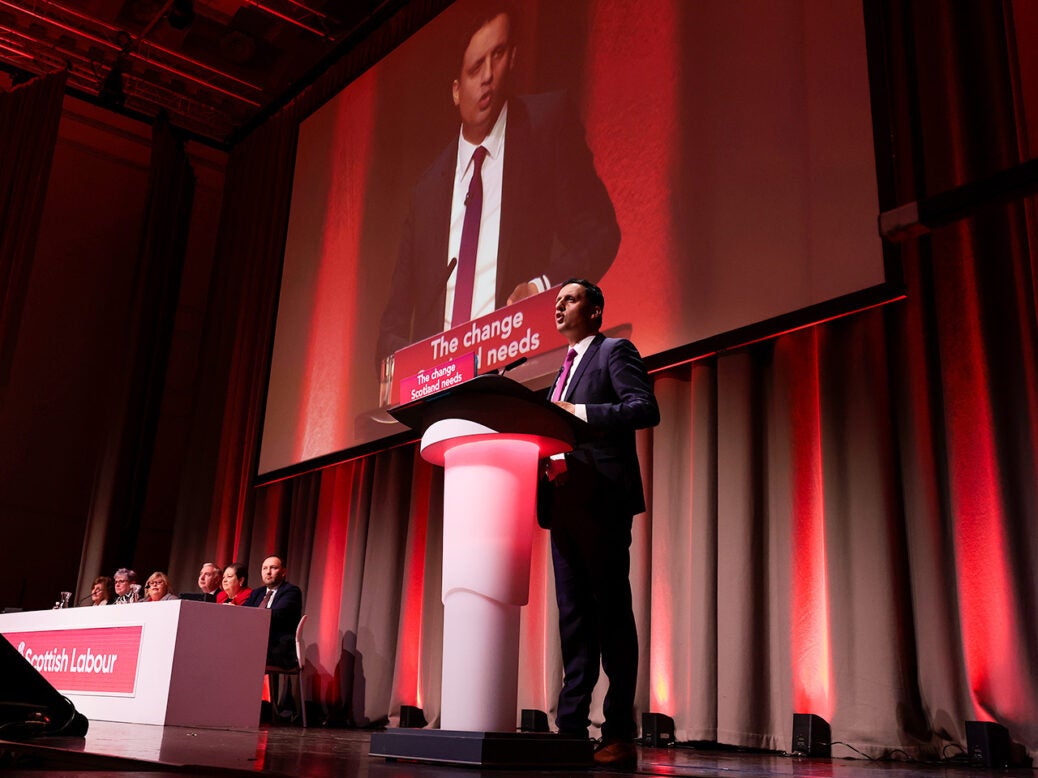 The throne is empty. Nicola Sturgeon is gone (or at least on her way out). Her eight years at the top of the Scottish government, the SNP and the wider Yes movement prevented a challenger or successor gaining ground among the public. Her personal approval ratings would still make a Westminster politico weep (she even polled well among devout Unionists). So who will fill the vacuum she leaves?
Few politicians in Scotland command serious name recognition among the public in the way Sturgeon does. In 2014, she seamlessly succeeded Alex Salmond, having served as deputy first minister for seven years. But there is no equivalent today (as the troubled start to the SNP leadership contest has shown). But of all Scottish politics' "also-rans", it is perhaps Labour that is best-placed to profit from the SNP's internal turmoil.
Anas Sarwar, Scottish Labour's leader since 2021, is faring better among the public than his recent predecessors. According to Ipsos UK's December survey, he holds the approval of some 40 per cent of Scots – behind only Sturgeon's net positive rating. Scottish Labour itself has enjoyed a mini-revival having led the Conservatives as the primary Unionist party since December 2021. It is now polling as high as 30 per cent having won just 22 per cent at the last Scottish election. A YouGov poll of Westminster voting intentions, published this week, put Scottish Labour just two points behind the SNP (29-27) – though this appears to be an outlier.
What has driven this surge is less a transfer of support from the SNP than a coalescence of the Unionist vote. My own poll tracker shows that of those certain to vote, nearly one quarter of those who went Tory in 2019 are going Labour in 2023. This compares with 11 per cent of those who went SNP in 2019 going Labour now – a figure offset, by the way, by 8 per cent going in the opposite direction.
[See also: Three cheers for Nicola Sturgeon for knowing when to walk away]

The fall of Sturgeon hasn't changed the fundamentals of public opinion on independence. Her recent decline in popularity has been mirrored by a small decline in support for separation. But backing for independence remains around 48-49 per cent. Scotland remains truly divided.
But when Sturgeon eventually departs, one wonders if this will remain the case. How much of the support for the SNP and for Yes is a consequence of her well-regarded capacity to speak for Scotland? If the figure is around 10 per cent and the new SNP leader fails to inspire, then one should expect support for the party to fall by a proportionate amount. It will mean polls such as the recent YouGov one become more common.

But let's not get ahead of ourselves. All this is conjecture, dependent on the capacities of the next first minister. The current situation is noteworthy enough though (without even accounting for tactical voting). Unionist voters have increasingly demonstrated a willingness to switch to the party best able to beat the SNP. Across Scotland, Tory voters are switching to Labour. And although Labour is still struggling to win back long lost supporters from the SNP, it is nevertheless gaining ground in the same areas it once held. Except this time it is doing so with Tory votes. At present, using data from before Sturgeon's resignation, Britain Predicts' modelling suggests that Labour would win 14 seats in a general election, up from just one in 2019 and from seven in 2017 but down from 40 in 2010.
[See also: Kate Forbes emerges as early favourite for SNP leadership]
Tory fall helps Labour gain
How Scotland would hypothetically vote in an election held today

All this has yet to factor for tactical voting, which to my mind explains the forecasted SNP gain in Caithness, Sutherland and Easter Ross, the northern-most mainland constituency: the incumbent Lib Dems are fading but Labour isn't yet strong enough to claim the seat. In reality, we know this wouldn't happen (as our soon-to-be updated model will show). 
A forecast of 14 seats for Labour is dependent on one in five Tory voters going their way. If Rishi Sunak rallies his party that won't last and Sturgeon's successor, if popular, could yet marginalise Sarwar's Labour again. 
The potential for a genuine Labour comeback is real. But at present it's too reliant on hope and good fortune – which isn't much of a strategy. There are too many variables to be confident of anything in Scottish politics. Give it a year.
Read more:
The tragedy of Nicola Sturgeon
What is behind Nicola Sturgeon's resignation?
Nicola Sturgeon is right on gender recognition