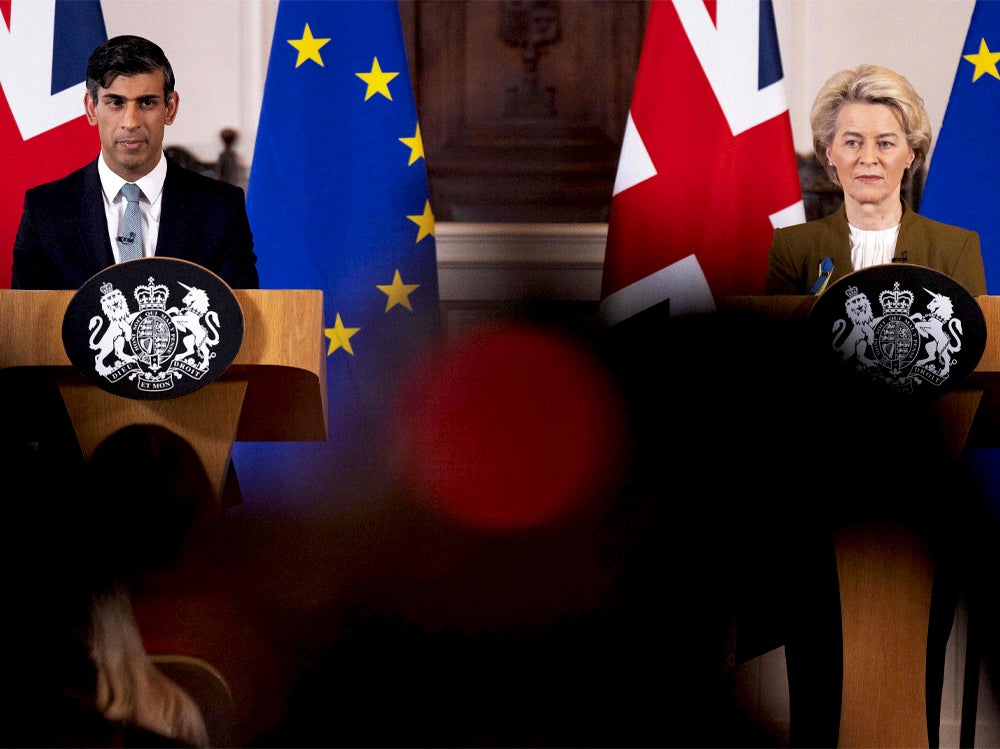 A deal has been done. An agreement on post-Brexit trading arrangements in Northern Ireland between the UK and EU has been made. In parliament the government should have little cause for worry: Labour has said it will support the deal and Brexiteer MPs are (for the most part) on side. Whether the Democratic Unionist Party accepts it or not doesn't detract from the fact the deal is a triumph for the government and for Rishi Sunak.
In public opinion terms there's a potential windfall for the Prime Minister here. Right now, things are looking pretty bad for the government. Sunak has very low levels of public likeability. His party is in disarray. The Tories could take a serious drubbing in suburban England in the local elections in May, which could be the last before the next general election. Perceptions of the Conservative Party's competence are low, and trust in it to manage the economy – in my mind the most fundamental indicator of a party's capacity to govern – is around the lowest it's been for almost two decades.
Any good news should be seized and trumpeted by Sunak's Tories. The Northern Ireland deal may play well in theory. It could motivate apathetic Leave voters to pay more attention to politics, and to turn out to vote.
[See also: Britain Predicts]
So the atmosphere may be of benefit for the government. But the subject itself is another story. Brexit as an issue doesn't sit high in public priorities. According to Ipsos's issues index, it is seen as important by only about one in 20 people. This deal comes at a time when public anxiety is highest over the cost of living, not Brexit. As the deal was being announced, BBC presenters were turning to other stories, particularly one of greater import to consumers: that typical household energy bills will go on rising this year, despite – they strained to mention – a fall in wholesale gas prices.
So Sunak's victory comes at a time when voters aren't paying much attention. Not only that, but issues surrounding Northern Ireland simply do not move the votes of mainland Britons. Ask voters how they'd feel if Scotland left the UK and a large majority would come forward with a strongly-held view. Most would be upset. But ask how they'd feel if Northern Ireland left the Union, and – in increasing numbers – they say they wouldn't mind.
[See also: Is Labour really heading for a 314-seat majority?]
Here's what Sunak is up against. He has won a victory on the Northern Ireland protocol. The issue has been a cloud hanging over the UK-EU relationship since Brexit. Voters, however, aren't as bothered by Brexit as they are by other issues. And on the specifics of Northern Ireland, voters aren't bothered to the point that they wouldn't be that fussed if Northern Ireland went and left the Union.
So whatever favourability windfall Sunak gets, I suspect it will be limited to "winning a negotiation with Brussels", rather than "winning big for Britain". It may push up his personal approval rating. It may narrow the polls by a few points. But the effect will be limited. The fundamentals remain the same: Britons are most anxious about inflation, the cost of living, wages and the NHS. Unless you're making progress on them, you're getting nowhere.
Read more:
Does the British public support strikes? It's complicated
Given Labour's poll lead, are the Tories finished? - State of the Nation
Keir Starmer is boring but "left-wing like me", say Labour voters