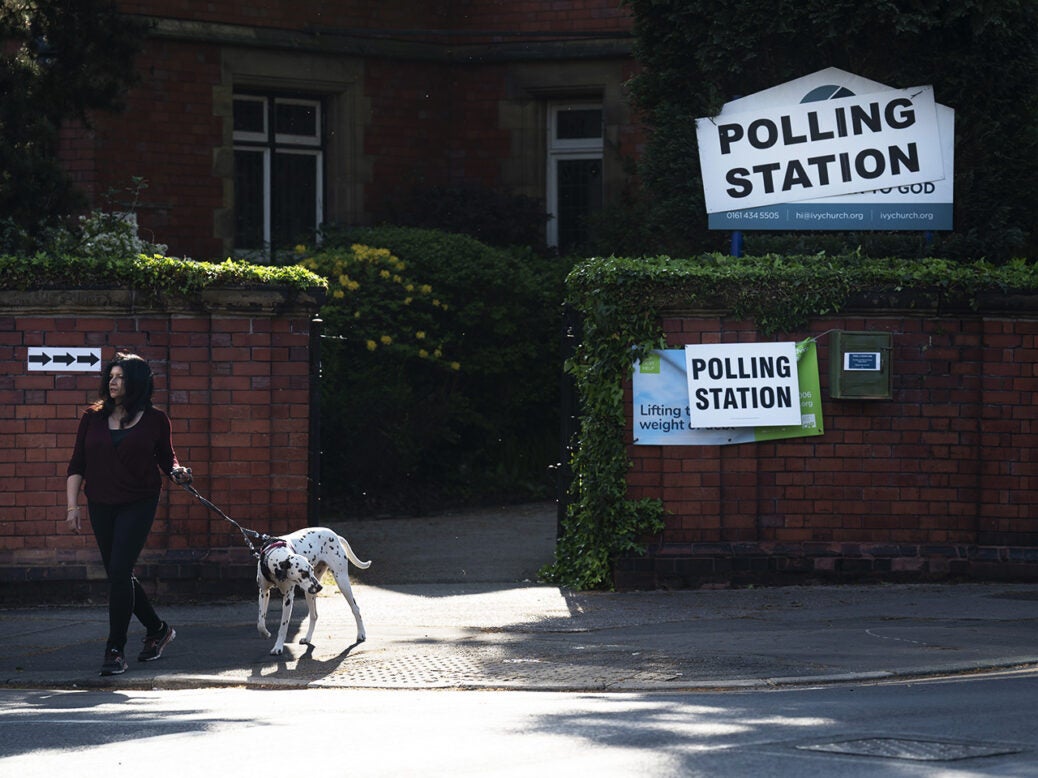 From May, those eligible to vote in England will be required to show a valid form of identification or be denied the right to vote. The decision by the UK government to mandate voter ID, to "combat electoral fraud", is tantamount to launching a nuke at an ant mound. The Electoral Reform Society puts allegations of voter fraud at just 34 out of 58 million-plus votes cast in all elections held in 2019. But the law is the law and, so as long as this one exists, let's roll with it. Which party will compulsory voter ID hurt most?
If you match data from the Driver and Vehicle Licensing Agency up with UK population estimates from the Office for National Statistics, those in their thirties to sixties are most likely to hold a full or provisional driving licence – one of many forms of ID. For those aged 25 and under, the figure falls to between 80-88 per cent. For those aged over 70, the figure ranges from 62 per cent if you're 73, to 48 per cent if you're 85.
[See also: Police on standby for polling station abuse over voter ID]

Low-attention voters, a group that Labour has traditionally relied on to fatten its margins come general elections (but who stray during local elections), seem less likely to be aware of the new law. They risk arriving at the polling booth unprepared. From my own experience of canvassing voters, changes as minor as moving the location of a polling station can have outsized impacts such as deterring from voters from turning out altogether. Mandatory voter ID is an even greater (and unnecessary) barrier. And given those over the age of 65 are most likely to vote – including in the upcoming low-turnout bonanza that is the local elections – and most likely to vote Conservative, it is presumed that voter ID will do disproportionate damage to left-wing parties. But that is questionable.
Because of this, it is the public's awareness of the law that is more important than the estimated prevalence of photographic identification. An Omnisis poll for Byline Times suggests that, unsurprisingly, awareness is low. Sixty per cent of Britons didn't know about the new voter ID law. That figure rises to 62 per cent for 2019 Conservative voters but falls to 46 per cent for 2019 Labour voters. Leave voters and those aged over 40 were less likely to know of the law change than those under 40.
[See also: People without valid ID probably wouldn't vote anyway, declares Tory minister]

Figures such as these suggest voter ID could disproportionately harm the Conservatives. Among current Labour and Tory supporters, however, those unaware of the new mandate is relatively equal, at 56 and 58 per cent respectively.
But I do think pollsters are missing a trick. Rather than just asking voters of their awareness of the law, they need to ask them whether they already regularly carry photo ID with them and, indeed, whether they have had it on them when they've voted in the past. If they did, then no organisational change is needed. But if they don't, the mandate will actively require voters to change their behaviour. It is this body of already-active voters that is most at risk of being disenfranchised in May.
There are ten weeks until polling day – ten weeks for local parties and local authorities to advertise the mandate to all and sundry. Some 8,000 seats are up for election across much of urban and rural England. Key suburban and commuter battlegrounds that gave David Cameron power in 2010 risk evicting his Tory successor at the next general election, and 4 May might offer the first hint of this.
Typically, local elections see a turnout of between 25-35 per cent. In more deprived areas, turnout often falls as low as 15-20 per cent, while in affluent ones it rises as high as 40 per cent. If we see a deviation from these trends on 4 May, we can with confidence say that voter ID has had a detrimental impact.
[See also: Have the Conservatives done enough for women?]