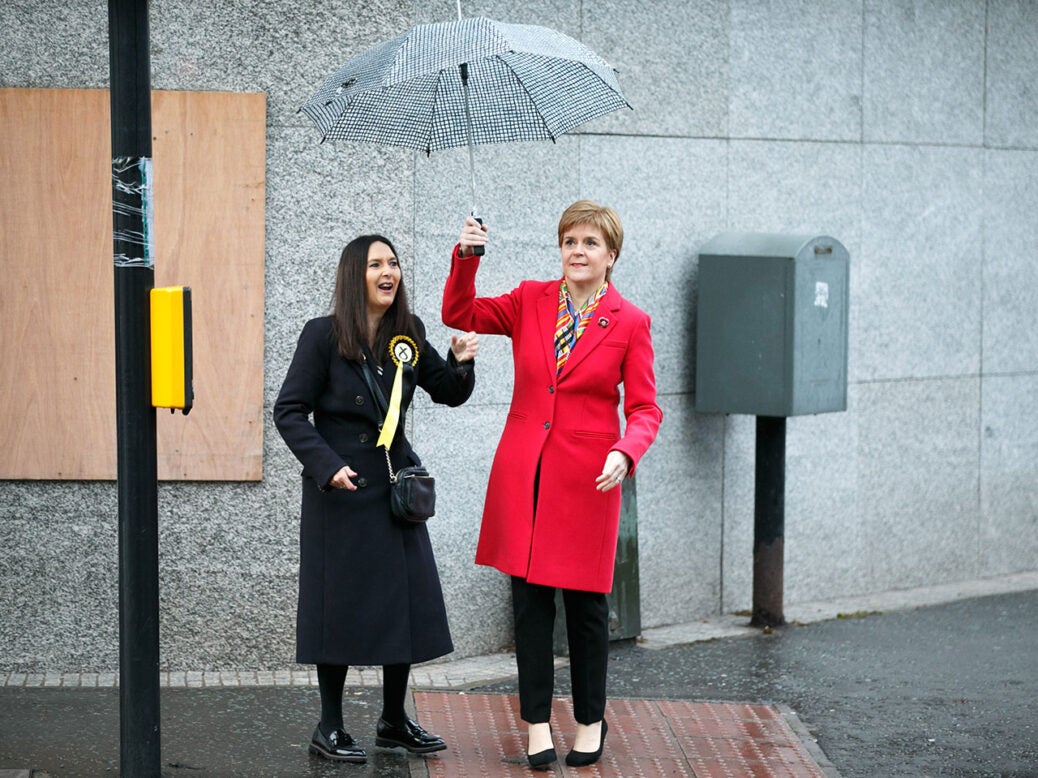 The SNP's Margaret Ferrier has been recalled as an MP by her constituents in Rutherglen and Hamilton West. A recall petition, signed by more than 10 per cent of eligible voters in the central Scottish seat, has disqualified Ferrier from continuing to sit in parliament, triggering a by-election. 
Ferrier was ruled to have damaged the reputation of the House of Commons and to have put the public at risk by breaking lockdown rules in September 2020. She travelled by train to take part in a debate in parliament while knowingly having Covid-19. Ferrier, who was elected in 2015 and 2019 (she lost her seat to Labour in 2017), was suspended by the SNP once she was found to have breached coronavirus regulations. Both her local constituency association and former Scottish first minister Nicola Sturgeon called for her to resign the seat. But it is grassroots action, rather than top-down pressure, that has proved pivotal.
Analysis
Now, while Rutherglen and Hamilton West might be a mouthful of a constituency name, it has more importantly become a key battleground seat for Labour and the SNP. It went Labour by 45 points in 2010 – back in the days when the party could take the central belt of Scotland for granted. Then in 2015 it went SNP by 17 points, before returning to Labour by half a point in 2017 and going SNP again by 10 points in 2019. 
So what next? A Labour gain here is probable and more than necessary to prove the party's comeback in Scotland. Polls point to Labour improving its support across the country by a margin of 10-15 points, whereas the SNP's vote since 2019 has fallen by between five and 10. No polls have yet put Labour ahead of the SNP across Scotland but in Rutherglen the national numbers dictate a probable Labour gain.
And according to Britain Predicts, if an election was held today, Labour would win the seat with 48 per cent to the SNP's 37 per cent.
The Britain Predicts model, however, is not as water-tight as I'd like it to be. Last month's by-elections – in Selby and Ainsty and Uxbridge and South Ruislip – show as much. We forecast a Labour gain in the former by a margin of two points. In fact, Labour went on to win the seat by 12 points, outperforming the polls as Tory turnout fell. And we forecast a Labour gain in Uxbridge and South Ruislip by 14 points, similar in the scale to the margin projected in Rutherglen. What transpired, however, was a Conservative victory (by 2 points).
What enabled the Tory hold in Uxbridge was the impending expansion of the Ultra Low Emission Zone across all London boroughs, including Hillingdon, where the seat lies. Conservative turnout in Uxbridge did not collapse by as much as in Selby or Somerton. An "anti-campaign" campaign helped get the Tory vote out.
And while Rutherglen is not due a Ulez-type scheme anytime soon, the dynamics of Scottish politics dictate that anything is possible. Niche issues can dominate niche locales. The national Scottish numbers point to a Labour recovery, but that doesn't yet guarantee a Labour gain. It makes it highly probable but not certain.
The writ for Rutherglen and Hamilton West should be moved for in the first few days of September – once parliament has returned from recess. That should mean a by-election in the first few weeks of October (perhaps even during Labour's annual conference). In spite of being removed by the recall petition, Margaret Ferrier is nevertheless entitled to stand in the coming contest.
[See also: Scotland has been left with the worst of both worlds]