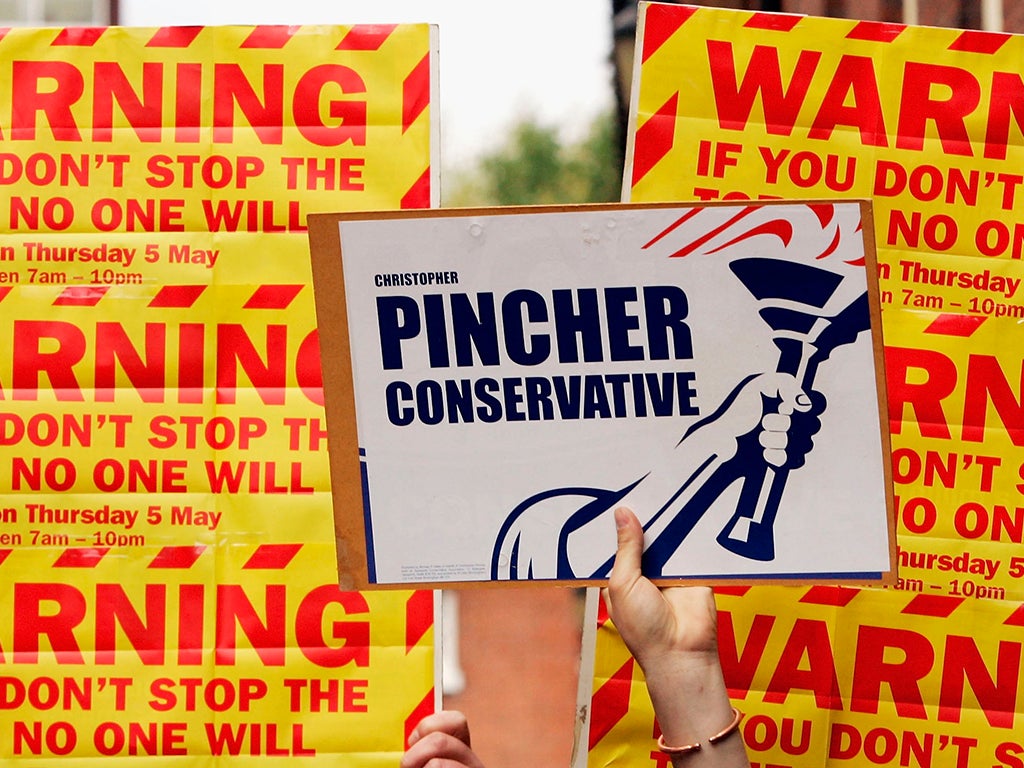 Christopher Pincher has been Tamworth's MP since 2010. He has a very healthy majority – on paper, at least – of 43 percentage points. His win in 2010 was a gain from Labour on a swing of ten points, over and above what was happening nationally. Having resigned as the deputy chief whip after allegations of inappropriate conduct and, with more groping accusations swirling, he is now under pressure to stand down as an MP – raising the prospect of yet another by-election.
Tamworth is a town in Staffordshire, not too far from Lichfield (or Lich-Vegas, as its MP has form for saying), and was once the capital of the Anglo-Saxon kingdom of Mercia. It features on the West Coast Main Line (so budding London-based journalists and activists need not fear a difficult journey), and from 1997-2010 it was Labour held.
But for those readers who live for political drama, I have disappointing news: a Tamworth by-election isn't the bellwether battle it used to be. It's no Wakefield. It's not a marginal any longer. Although it featured as one of the key battlegrounds that gave Labour its majority in 2005, the identity of Britain's swing voters has shifted significantly since then. If an election was held today, our national modelling suggests the seat would stay Conservative, albeit with a majority of 16 points, down from 42 in 2019. This would come at the same time as Labour attaining around 306 seats nationally (we predict), 20 shy of an overall majority.
From 40 to 16 points is, undoubtedly, a big swing, but those margins are still not hugely competitive. And that's the thing with seats like Tamworth – the voters being fought over in 2005 or 2010 are not the same types of voters today. The battlegrounds have moved, as has Tamworth's political loyalties.
Why is this? Well, we can pin it for the most part on Ukip – because Ukip tells us a lot about where Labour's vote has gone. The Tamworth constituency covers a great deal of the Staffordshire countryside, but the Tamworth local authority only represents the built-up bits of the town. And for the past decade, the Tories have managed to win the town by a wide margin, in part because of Ukip.
[See also: Who would win if an election was held today?]
In the 2012 locals, Labour did well nationally. Off the back of the omnishambles Budget, Ed Miliband was on his way to winning a huge majority according to the national polls. In Tamworth's built-up areas, Labour won the most votes, a feat unmatched since 2002.
But then Ukip rose to prominence, and in 2014, Labour fell back from 49 per cent to 38 per cent, while the Tory vote only went from 44 per cent to 43 per cent.
The assumption that Ukip disproportionately damaged the Tories is a decade-long national narrative from the past decade that, in Tamworth at least, was wholly divorced from reality. Chart the popular vote by local election year and you see with every Ukip surge that it is Labour's vote that suffers the most, not the Tory party's. Ukip's urban wins came not in Tory areas – or because the Tory vote united behind Ukip – but in Labour's.
Since the fall of Ukip, Labour's recovery, while present, has been muted. In the 2022 locals, the built-up bits of Tamworth split 48 per cent Conservative, 40 per cent Labour.
The reason I'm giving attention to these data points is two-fold. The first is that in May's local elections – when Labour did so well nationally that it would become the largest party in parliament if the voting trends were replicated in a general election – it still fell behind in Tamworth. The second is that the constituency's swing voters are perhaps too "Ukip-y" to be in Labour's grasp anymore. Its wins in Tamworth during the Tony Blair years likely came from voters that then went to Ukip, and then either to apathy or to the Conservatives in 2019. As a voter cohort they are a harder phalanx of supporters for Labour to win back than other, more affluent and less obviously Brexit-loyal groups.
The constituency of Tamworth is a lesson: not all Tory, Ukip or Labour voters are the same across the country. The victories under Blair came from a broad coalition of votes that have since shifted elsewhere. With the absence of Ukip, the 2022 local elections represented the closest that urban Tamworth has come to being something other than Conservative – but Labour were still behind by seven points. Unlike the recent by-elections in Wakefield and Tiverton and Honiton, this seat looks an unlikely place for a Labour upset.
[See also: Why Sajid Javid and Rishi Sunak finally resigned]