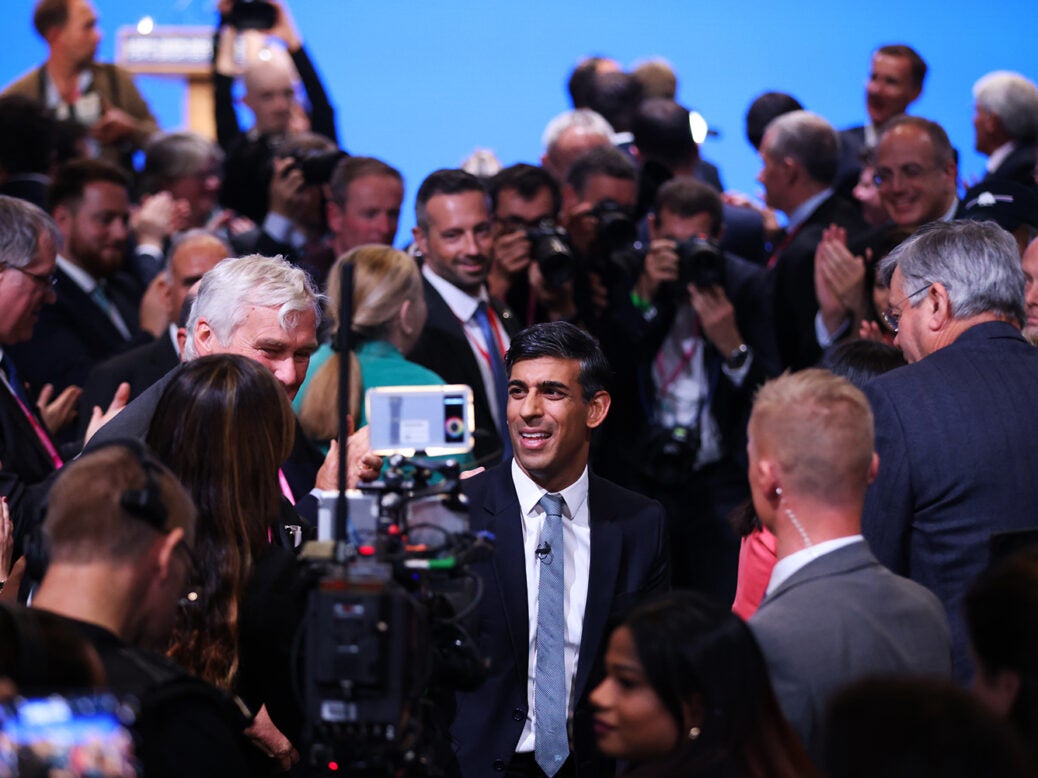 What did the conference season do for the parties? Dials moved or steady as she goes? It's far too early to be sure of the public response to Labour's conference but in the case of the Conservatives we can now analyse at least some of the tremors. 
First of all, how much cut through to the wider public? Any conference attendee should readily admit that a sea of M&S "My First Suit"-wearing political junkies does not make for a representative sample of the voting public. And consumption of all things politics by the average Briton is minute at best. But general snapshot impressions can be generated – headlines can break through. "Vibes" are real (even if they can't be quantified). And according to Opinium, a quarter of Britons heard a great deal about the Conservative Party conference. Just 29 per cent heard nothing, meaning, simply, that it got majority reach.
Amusingly, however, more Remain voters paid the Tory conference heed than Leave voters. If the conference was designed to appeal to apathetic 2019 Conservatives, those numbers alone illustrate that it failed. 
The general consensus among both New Statesman commentators and our readers is just that: the Conservative conference was a bad, haphazard selection of policy proposals hurriedly put together with little uniting them. The party resembled an animal flailing before it is felled.
And when Britons were asked how they felt about the Conservative government's agenda, just 27 per cent remarked that they had well thought-out policies. (This compares to 37 per cent who said they at least have lots of ideas – good or bad.) Forty eight per cent, meanwhile, believe a Rishi Sunak-led Tory party has poorly thought-out policy ideas.
I would note, though, two things I found within the data tables. The first is that those who voted Tory in 2019 and have since become "don't knows" are just as unlikely to deem the policy proposals well thought-out as the median Briton. And those who voted Tory in 2019 – all of them – aren't that enthused about the Conservative brand as it stands. Thirty six per cent do not think the party in its current form is producing well thought-out policies.
These are numbers one would expect to come from the country at large – not your own base. If the conference was designed to reach out and rally the troops, it failed. 
Nevertheless, we have another metric to consider: the polls. At the start of September Labour stood on 44.9 per cent, with the Tories on 26.8 per cent. On the opening day of Labour's conference, the party stood on 44.1 per cent, with the Tories on 27.1 per cent. 
If those shifts took place in the space of a day, I might write them up with a tentative amber warning: watch for more. But that's the shift over the space of a month. Labour's lead is down from 18 points to... 17 points. 
How about public opinion on economic management? Labour's lead at the start of September was nine points. As its party conference opened, that lead had risen to ten points. 
But what of the party leaders? Sunak's conference speech was where he confirmed the news that HS2's northern (read: important) leg was to be axed. It was the policy announcement that most voters registered too. 
But in terms of public perceptions about the Prime Minister, there was little evolution. Deltapoll, one of the industry's more "bouncy" pollsters, has, however, recorded a notable rise in net approval for Sunak: from -33 to -25. But my own Britain Elects poll tracker shows little shift. At the start of September, 32 per cent were favourable towards Sunak, with 49 per cent unfavourable. These figures now stand at 30 per cent favourable, 51 per cent unfavourable – a net score of minus 21, down from minus 17 at the start of September.
Now, OK: my tracker covers survey data over a longer period. Snap shifts take time to show up. Deltapoll may be on to something, or not – but it's too early to say. We aren't seeing the same trend in other pollsters just yet.
My immediate takeaway from the Conservative conference was that its messaging did in part touch on certain voter perceptions, be it scepticism about immigration or the need to level up more locally (You can hear it well: "Times are tough, invest in local rail lines, or invest in the London line?"). I was listening to it and I got it. But what I thought, as evidenced by the data we can see for ourselves, was this: there is little that can be said now that will shift votes. The country, it appears, has already made up its mind about the incumbent administration. Look at the polls, and it's almost as if the Conservative Party conference never happened.