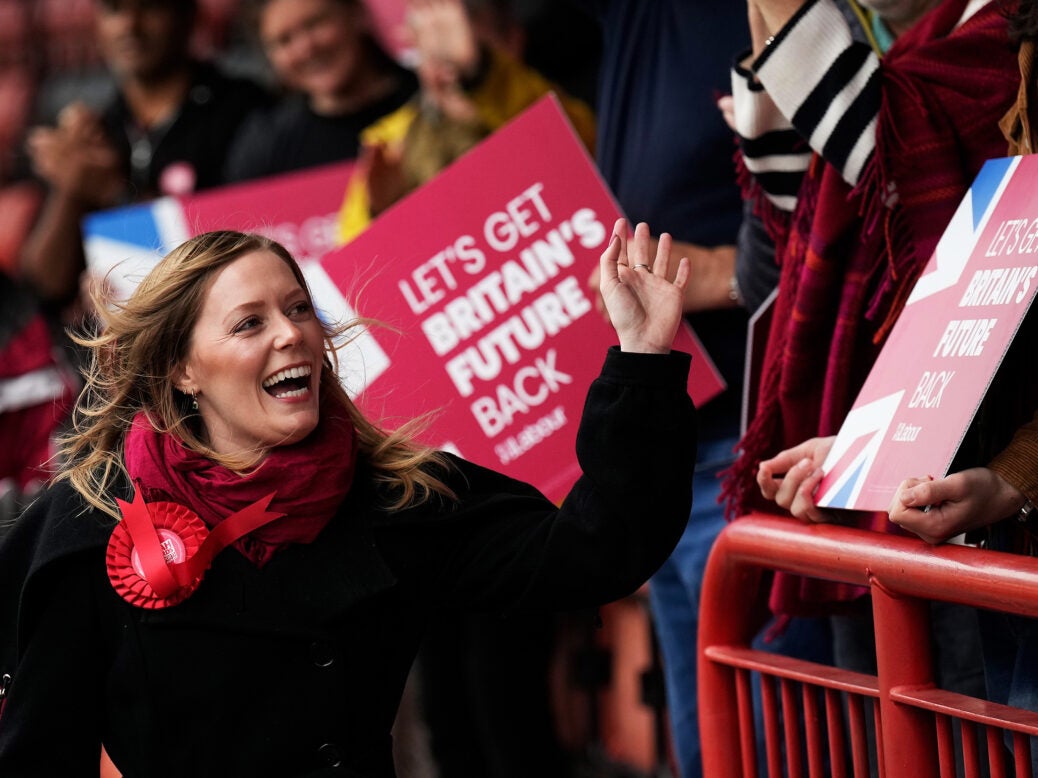 I visited Tamworth on Tuesday – shamefully my first visit beyond the town's train station. A rather unusual October sun was beating down on the former Mercian capital as I wandered its postcard-pretty streets. I felt more tourist than journalist. But the occasional poster and voting sign board showed this was nevertheless a town engaged in an election.
Seats such as Tamworth have swung wildly in recent history. Up to 2005 it was voting in New Labour MPs, but since then it has eluded Labour's grasp with increasing distance. It's white. It's heavily motorist. It has entertained Ukip councillors, often at the expense of the Labour vote. And on a turnout greater than anything seen in a general election since the 1990s, it voted 68 per cent for Leave in 2016. At the 2019 general election the Conservatives won the seat with 66 per cent of the vote to Labour's 24.
A 42 point mountain to climb for a Labour Party battered and bruised from a decade and a half of defeat was no easy ask. Which makes the victory of Sarah Edwards, the Labour candidate, all the more impressive.
Put it this way: the largest majority Labour felled in the 1997 election was in Harrow West, where the Conservatives had a 33 percentage point advantage. Labour gained that by 2 points. And the last time Labour gained Tamworth in a by-election (in 1996, when the seat was called Staffordshire South East) the Conservative majority had only been 13 points. While Tamworth has entertained Labour before, it has never swung on such a scale from one party to another. So how did it happen?
In May's council elections Labour almost swept the town, winning eight of the ten seats up for grabs. I am told by organisers that in one of the wards there was next to no campaigning because local activists were anticipating a heavy defeat. They won that one by accident.
But whatever the state of the party in May, Labour will swear to being organised now. Stepping into the campaign HQ it was clear that the quantity of literature put about by Labour for this by-election was immense. Any and all leaflets were emblazoned with union flags bearing "Meet Sarah", emphasising her prior job as a union organiser "fighting for better jobs and protecting Staffordshire's cancer services". I noted one attacked the Conservatives for "wasting £6 million a day on asylum hotels" – the only mention I could see from any Labour leaflet, here or anywhere, on immigration. Another leaflet I saw was a simple black and white card with "What has the Conservative government done for you?" on top. Open it and you would find one word. "Nothing."
[See also: Labour's two by-election victories put the party in landslide territory]
Walk the streets and those window posters and voting signs I mentioned – while all for Edwards – were few and far between. Apathy was the expression of the day. It's just that of those that were displaying their colours, Labour's were most prominent.
And that's what's most striking in Tamworth. I've visited more constituencies than I can count. But no seat I've visited has felt less like what it voted at the last election. Tamworth had a 20,000 Tory majority in 2019. So where's that? While Labour activists were cagey about whether they'd win, they were confident that this was no safe Tory seat anymore. It doesn't feel like a Tory seat, they said. In new-build estates and old, with little fanfare, voters have changed parties. But that little fanfare makes canvassers uneasy. This isn't the celebratory atmosphere of 1997. This is something more glum, more despairing.
As I arrived, getting off my London-bound train, I saw the Reform leader Richard Tice clambering aboard. It was 2pm. Reform, which Britain Predicts had on course to pick up 9 per cent here, have underperformed again, winning 5 per cent in a by-election with low turn-out. The party told me it had leafleted the seat thoroughly, but the only activity I saw on my visit was a gazebo by the church in the town centre. Five activists hovered, hands in pockets talking among themselves. The best that can be said is that the Reform candidate, Ian Cooper, sitting atop a stone wall, was at least trying to engage a voter.
Britain's radical right have rarely been organised. Street stalls create noise, distractions, but they won't win enough votes for a big victory – or a victory at all. In the 2019 Peterborough by-election, which they were bullish about winning up until the final hour, the Brexit Party had likewise sent activists to the city centre to… what? Talk to locals? Oh, you mean those wandering tourists? Yeah, OK. That'll work. Labour took the seat by 700 votes.
The Conservative vote is by and large in freefall. A great many of those that came out for Boris Johnson's "Get Brexit Done" in 2019 now indicate to pollsters they have no interest in voting, or are unsure of it. But the number changing their mind and going Labour's way is not insubstantial either.
What happened in Tamworth is what's happening nationally, writ large. Labour doesn't need this constituency to win a majority in Westminster. Labour doesn't need it to win a landslide, or 400 seats, or even 420. So what does that say?
[See also: Andrew Marr: Danger still lies ahead for Labour]