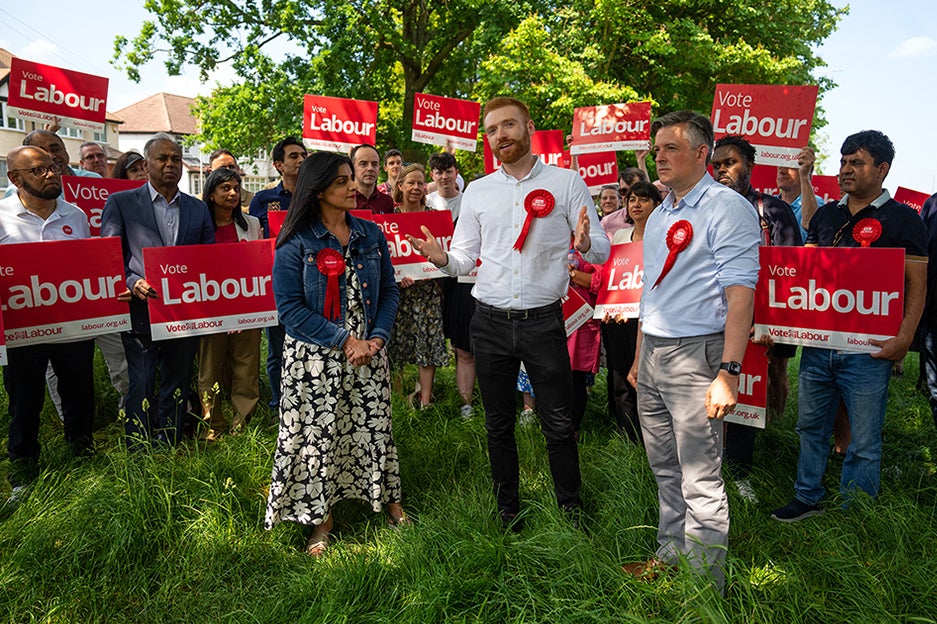 Labour could be forgiven for treating a win in the Uxbridge and South Ruislip by-election on 20 July as a foregone conclusion. The seat, vacated by the disgraced (can we officially call him that now?) former prime minister Boris Johnson, is projected to be won by Keir Starmer's party. (See my critique of Michael Ashcroft's constituency poll last week, which suggested Johnson would win.)
Britain Predicts – which has accurately forecast most Con-Lab battles – suggests that Labour will take the seat by a margin of 10 points (as of 14 June). But there is reason to believe that the seat might not be as Labour-aligned as the national numbers suggest. 
Ruislip has never gone Labour, while Uxbridge has only twice elected Labour MPs: the first in 1945 and the second in 1966 (the Tories held the seat by just 724 votes in 1997). In local elections, Labour hasn't performed well there. In 2022, the council remained safely in Tory hands and Labour's recovery across the borough of Hillingdon was muted at best. And while Labour at the time led the Conservatives by five points nationally, the Tories led Labour by 15 points in the parliamentary seat (51 per cent to 36 per cent).

The national polls currently give Labour a lead of 17 points. If we were to assume a uniform swing the notional local election figures for the Uxbridge seat would be Conservative 45 per cent, Labour 41 per cent. This is not promising – it suggests an under-performance by the local opposition party. Or, more simply, it reflects an ever-present truth about local elections: local councillors, local issues, little national relevance.
Not so Labour leaning
Wards of best fit for Uxbridge and South Ruislip in the 2022 local elections
That's the psephological analysis. But in Uxbridge there is perhaps a more concerning, on-the-ground development for Labour: ULEZ, or the ultra-low emission zone. It's a tax on cars that do not meet certain emissions criteria. At present, it's active in central London, having been proposed by Boris Johnson and implemented by Sadiq Khan, and from August it will cover all of Greater London, including Uxbridge.
In practice, the charges apply to most pre-2006 petrol cars and most pre-2015 diesel cars. Undoubtedly, it's going to have a political impact. While four in ten households in London do not have a car (a striking development in the past few decades, though it has been most prevalent in central boroughs), in Uxbridge and South Ruislip just 22 per cent of households go without. And not only this: one in three Uxbridge households have two or more cars or vans. 
The experience of local election campaigns is that local issues can galvanise otherwise apathetic voters into turning out over a single issue. In Ellesmere Port in Cheshire, anxiety over a proposed hydrogen development saw the election of a Green councillor – a gain from Labour, perceived as the local establishment most deserving of a kicking. In Surrey boroughs, concern over supposedly excessive house-building has led to a surge of organised independents and so-called residents' associations. If an issue triggers public angst, it can have profound implications for election expectations.
But in the case of Uxbridge, is this factor really strong enough to help the Tories cling on to a parliamentary seat? As noted above, Britain Predicts suggests a Labour lead of just 10 points. But if ULEZ was to have a financially detrimental impact on residents, it would be more significant in outer London than in inner London. Cars remain king in Uxbridge.
We should be cautious. National polling, and the modelling that evolves from it, can have fluke-like form (as I fear mine has). But it occasionally fails to account for local swings. We know young(ish) first-time homeowners who commute, for instance, are flooding towards Labour on a significant scale. But that's a national trend: it may be disproportionately larger in some locales and disproportionately smaller in others. 
Perhaps in Uxbridge the latter will apply. Labour may be the favourite but by-election victory isn't a given.
Follow our by-election live blog here, for the latest news and updates