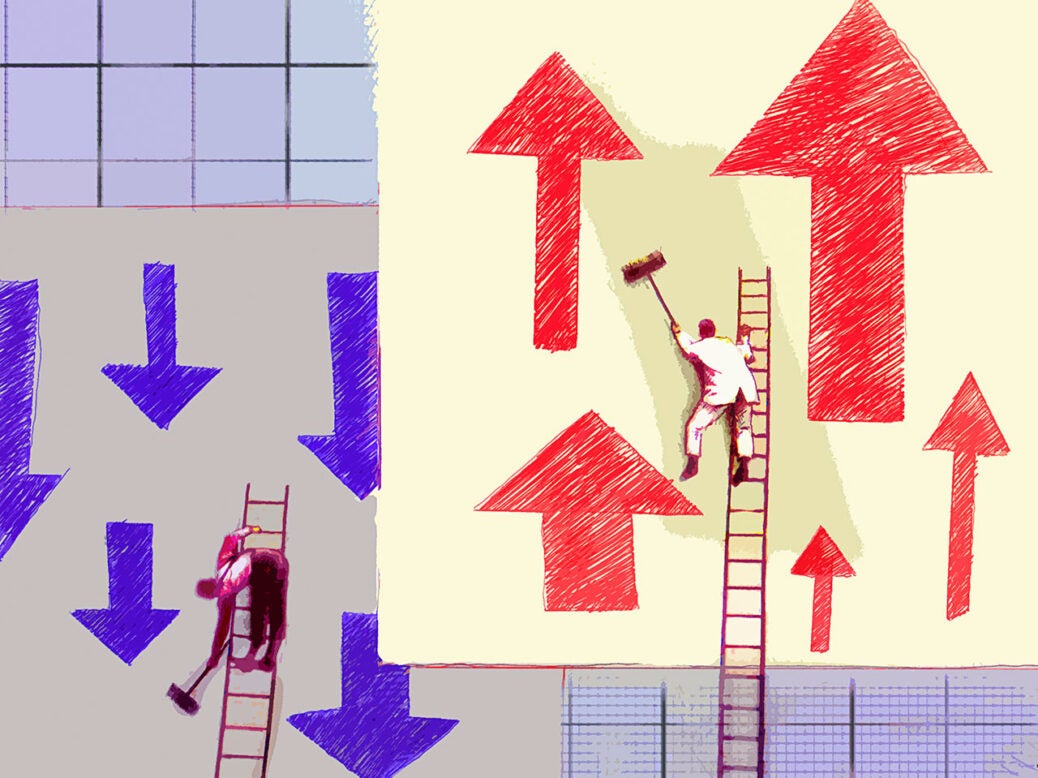 There are a number of polls showing a narrowing Labour lead. What's happening?
Firstly, I suggest you follow the poll trackers, rather than individual polls. Labour's decline in some polls – a lead of ten points in Opinium (down from 15 points) and 16 points in Deltapoll (down from 24 points) – is offset somewhat by a 21-point lead with YouGov, up from 16 points, and a 20-point lead with WeThink, up from 17 points.
It's also worth noting that Labour's reduced advantage in Deltapoll follows one that recorded an increase: at the start of the month the rather swing-prone pollsters had a Labour lead of 18 points, which widened to 24 before shrinking to 16.
Every time there's a flurry of surveys from one or two of the more prolific pollsters showing a narrowing or widening Labour poll lead, I get the same question put to me: what's happening? Is something happening? Is something changing? And in consulting the Britain Elects poll tracker, like Merlin indulging the Oracle, I have this to say. The Labour lead has shrunk – intake of breath, gasp – from 19 points to, uh, 18 points.

The problem with basing your analysis on Twitter takes is that you're only consuming what's in front of you. Not all tweets are weighted equally (which was true before and after Elon Musk, by the way). It's no longer news that Labour's lead is gargantuan – Liz Truss put paid to that. 
But it is news if it's shrinking or widening in apparent response to some flash news story that 10 per cent or less of the electorate acknowledged. And some of the more swing pollsters, with perhaps more logged-on respondents than most, have recorded a slight recovery in Conservative support. But other pollsters (also featuring a more online sample than we'd like) haven't. The impact of recent weeks, which included Rishi Sunak's net zero speech, appears to have thus far been negligible.
I erroneously tweeted after a quick read-through of the numbers the other day that the schools concrete crisis had cost the Tories a few points in the polls, which they have now recovered. But I regret to say I overstated the effects of that story. The impact appears to be half a percentage point or so, now recovered – if, indeed, we can attribute that half-point loss and gain to the crisis. We don't know. We don't yet have a proper publicly available metric to gauge stories that have resonance and stories that don't (though watch this space).
Nevertheless, I would note that Opinium's ten-point lead for Labour represents the tightest poll we've seen with the firm since last September, and the tightest among our polling friends since a Deltapoll survey back in March. Is something going on? We don't know. The other researchers aren't recording much on this scale. But who's to say Opinium is seeing something we aren't?
I was asked to write on "what's happening to the polls" but my answer is: nothing yet, really. Despite the public perception that all pollsters are recording a narrowing, there simply is no unanimity. There's only noise.
[See also: Who will win the Rutherglen and Hamilton West by-election?]